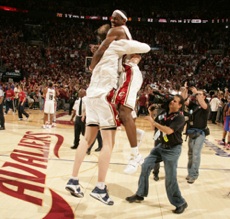 Cavaliers fans were ecstatic about the way the Cavaliers were able to trade for Antawn Jamison without giving up much for it. But at the same time, many are waiting to see what will happen with Zydrunas.
According to Zydrunas's agent,  Herb Rudoy, he is going to ask the Wizards for a buyout:  'I'm going to try to get them to do a buy-out, but I've already heard from a few teams — good teams — that are really interested in wanting to talk about Z going to play for them," Rudoy said.
The Wizards are trying to get under the tax limit and keeping Zydrunas will make no sense. So it is assumed that the Wizards will buy out the last year of Ilgauskas' contract, which will pay him $11.5 million. That would leave Ilgauskas free to sign with any team.
Zydrunas is at the end of his career which he spent all of it with the Cavaliers. We all know he would like to win a championship. We all remember the moment in 2007 when the Cavaliers won the Eastern Conference and Lebron ran towards Z and tackled him before anyone else.
Zydrunas will have to wait 30 days to re-sign with Cleveland. He would not have to wait to sign with another team, but he must be bought out before March 1 in order to be eligible for the playoffs.