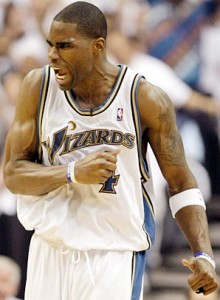 Cleveland, Washington and the Los Angeles Clippers have agreed to a three-team deal that will bring Antawn Jamison to the Cavalier.
The deal will send Zydrunas Ilgauskas' $11.5 million expiring contract and a first-round draft pick from Cleveland to Washington. Cleveland will also get Clippers guard Sebastian Telfair.
The Cavaliers have been chasing Jamison for a long time and now it finally happened without giving up much assuming the Wizards buys Zydrunas's contract and have him back with the team in 30 days.
"The team of Danny Ferry and Dan Gilbert have worked another piece of personnel magic with the acquisition of Antawn Jamison in a trade Wednesday. The veteran forward meets the team's needs, at a low cost — as long as Zydrunas Ilgauskas returns in 30 days" says Terry Pluto with Cleveland Plain Dealer.
"It's not just a deal, it's a basketball Brinks truck of a steal." says Terry.
The Cavs made the move after they were unable to complete a trade with the Phoenix Suns for Amare Stoudemire.
Proposed 3-team trade:
Cavaliers get:
Antawn Jamison from Washington
Sebastian Telfair from Los Angeles Clippers
Washington get:
Al Thornton from Clippers
Zydrunas Ilgauskas from Cleveland
1st-round pick from Cleveland
Los Angeles Clippers get: