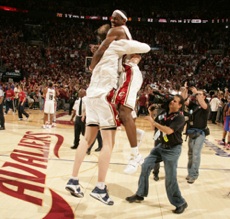 The Washington Wizards and Zydrunas Ilgauskas have reached an agreement on a contract buyout according to the The Washington Post.
The agreement would make Zydrunas a free agent and can sign with any team for a pro-rated share of the veteran's minimum. Many teams are interested in signing Zydrunas including Dallas, Atlanta, Utah, and Denver.
However, Ilgauskas who was part of a three-team trade that sent Antawn Jamison to the Cavs from Washington is believed to be headed back to the Cavaliers. After-all, he has been a Cavaliers since he was drafted into the NBA and has a strong relationship with Lebron and Shaq. Also, he would like to get a ring before retiring.
According to ESPN's Ric Bucher,  Ilgauskas has already flown back to Cleveland. Under NBA rules, Ilgauskas would have to wait 30 days to rejoin the Cavaliers. To be eligible for the playoffs, he will have to sign before March 1st.
"I expect him to decide by the end of the weekend," Ilgauskas' agent Rudoy said in a text message.