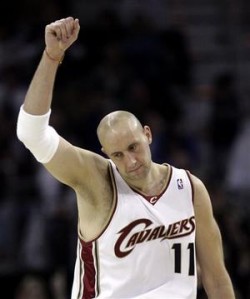 Zydrunas Ilgauskas is expected to sign a one year deal to play with the Cleveland Cavaliers the rest of the season The Cleveland Plain Dealer reported this morning. Zydrunas wanted to get a deal done as soon as possible so he can travel with the team in their upcoming road trip to New Orleans and San Antonio according to his agent Herb Rudoy.
The Cavaliers will pay him the pro-rated rate for the veterans minimum of $150,000 for the remainder of the season.
The Cavaliers dealt Ilgauskas to Washington at the trade deadline in a three-team deal that brought Antawn Jamison and Sebastian Telfair to the Cavaliers. Per league rules, Monday was the first day he was eligible to re-sign with the Cavaliers.
If the Cav's are not playing tonight, there's always PartyBingo.com. Click here to play.