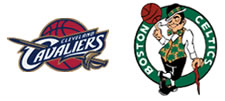 Are the real Boston Celtics the team that went 66-16 this season or are they the team that lost three playoff games in Atlanta to move within 48 minutes of suffering the biggest upset in NBA postseason history? Are the real Cleveland Cavaliers the team that routed the Washington Wizards in game two or are they the team that Washington ran over in game three? Within the next two weeks or so we will find out who the real Boston Celtics and Cleveland Cavaliers are, because by that time one of these teams will advance to the Eastern Conference Finals while the other team will spend the offseason trying to figure out what went wrong.
Boston and Cleveland split their regular season series 2-2 but you can disregard the first three games because they took place prior to Cleveland's big trade. Cleveland's fourth game versus Boston was a 92-87 road loss on February 27, just five days after the trade. It was a back to back for Cleveland and the team's third game in four nights, while the Celtics had a day off prior to the game after returning from a five game Western road trip. LeBron James missed the last 4:24 of the first half versus Boston after spraining his ankle but he returned to action in the second half. Needless to say, considering the scheduling, the adjustment period after the trade and James' injury that fourth game cannot tell us too much about the upcoming playoff series.
One thing that we do know is that when James has been on the court for the Cavaliers this season they have been competitive with the Celtics and that is a significant consideration. The individual matchup between LeBron James and Paul Pierce has gotten chippy on several occasions over the years so it will be very interesting to see them square off against each other in the playoffs for the first time. James clearly is the better player but the Celtics have a lot of bodies that they can throw at James defensively and James can certainly expect to receive some hard fouls—though hopefully no reckless and dangerous blows like the ones that Washington's Brendan Haywood and DeShawn Stevenson delivered—particularly if he does not shoot a good free throw percentage.
Cleveland's three pronged formula for victory is defense, rebounding and the all-around brilliance of James. Cleveland's rebounding has been pretty consistent this season and James obviously has played at an MVP-level but the Cavs' defense has been up and down, mainly due to the roster instability caused by holdouts, injuries and the trade.
The Cavs put it all together in game two versus Washington, which was certainly their best overall performance since the trade and probably their best game since last season. Then they fell flat on their faces in game three. The Cavs bounced back from that disaster to win two of the next three games but Boston is obviously a step up in weight class. Last year's frontcourt rotation of Zydrunas Ilgauskas, Drew Gooden and Anderson Varerjao had a nearly perfect blend of size, mobility and shooting touch; the current frontcourt rotation of Ilgauskas, Ben Wallace, Varejao and Joe Smith has one more body but is older and not quite as well balanced. Wallace has obviously lost a lot of his athleticism and some of his energy, so he neither rebounds nor defends with his former gusto. Smith struggled with his shot versus Washington and neither Wallace nor Varejao are big-time scoring options, so Cleveland misses the scoring punch that Gooden provided.
Cleveland used a backcourt rotation of Larry Hughes, Sasha Pavlovic and Daniel Gibson during last year's run to the NBA Finals. Hughes departed in the trade and Pavlovic has been injured down the stretch, so the current backcourt rotation is Delonte West, Wally Szczerbiak, Gibson and Devin Brown.
Again, the Cavs have one more body than they did last season but whether or not the current rotation blends together as well as last year's did is still an open question.
West is the one player from the big trade who has probably come closest to consistently producing at the expected level. Szczerbiak's shooting has been very inconsistent and his defense is not good, to be charitable; he will have major difficulties guarding Ray Allen. Gibson has been nursing an ankle injury but he is a big-time shooter who has proven that he can make clutch shots. Brown is a nice utility player who defends and can provide some scoring even though he is not a pure shooter.
If the Cavs had a healthy version of last year's roster I'd definitely pick them to beat this year's Celtics; that Cavs team proved versus Detroit that it could beat a strong team in a hostile environment in a playoff setting. The current Cavs have one extra body in both the frontcourt and backcourt rotations, so I understand Danny Ferry's thinking in pulling the trigger on the trade, but the new Cavs have not been together as long as the previous unit was (that crew had multiple seasons together plus two full playoff runs in 2006 and 2007) and there are questions about the scoring punch at the power forward position and the defense at the shooting guard position.
Boston actually has a very similar formula for success that involves defense and rebounding but spreads the offensive load among the "Big Three" of Pierce, Kevin Garnett and Ray Allen. The Celtics' bread and butter offensive play is to get Pierce the ball on the left side either on the block or facing up his defender on the wing (depending on whether the defender is a small, quick player or a big, slow player).
Pierce has three point range and is good at drawing contact to get to the free throw line, so that offensive set poses a lot of problems for opposing defenses. Garnett likes to shoot face up jumpers. When he goes to the block his preferred move is a high arcing turnaround jumper while fading away slightly.
Garnett's two pet moves are not apt to draw contact or put him in good offensive rebounding position, so if the Celtics need a two point basket they are more apt to go to Pierce. Of course, if the Celtics need a three pointer then they will run Allen off of several screens to pop him open. Pierce can make threes and bench players James Posey and Eddie House are also long range threats.
Young point guard Rajon Rondo has performed better than a lot of people expected and the Celtics acquired veteran Sam Cassell to be a steadying hand for about 16 minutes a game during the playoffs. Starting center Kendrick Perkins is a solid player who crashes the offensive boards and dives to the hoop when one of the "Big Three" gets double-teamed. Bench players Posey, Glen Davis and Leon Powe provide energy and hustle.
The most impressive thing this year about the Celtics is how consistently dominant they have been at the defensive end of the court. That is why it is so surprising that they lost three games to the Hawks. Those losses can be attributed to Atlanta's athleticism and some complacency by the Celtics after taking a 2-0 lead but it is also fair to wonder if the Celtics will prove to truly be a championship level defensive squad against good teams on the road. The disconcerting thing for Celtics' fans is that down the stretch in the games in Atlanta the team lost its way both defensively and offensively. Maybe that series was just a test that the Celtics had to pass on the way to becoming a championship team or maybe the Celtics were exposed a bit in terms of not being a great squad despite their impressive regular season record.
This may sound odd, but the key to this series is game one. That is the underdog's best opportunity to steal a game and if the Cavaliers win game one then the Celtics will have to win at least one game in Cleveland and that thought would weigh heavily on the Celtics during game two.
The Celtics have shown all year that they are great frontrunners but can they execute under pressure in a playoff series if they lose homecourt advantage right off the bat? Atlanta pushed the Celtics but deep down the Celtics knew that they were the better team and that they had a game seven at home in their back pockets. If they lose game one to Cleveland then they will not have such a comfort zone.
The blueprint for Cleveland to win this series is to come out with a high energy performance defensively in game one, backed up by a near triple double by James and timely shooting by one or two of the perimeter players. That would set a great tone and provide Cleveland with an opportunity to ultimately close the series out in game six at home.
Cleveland is certainly capable of pulling this off but looking at the Celtics' body of work this season compared to the Cavaliers' body of work, Boston has to be considered the favorite. I expect the Celtics to win a tough seven game series but if Cleveland steals game one then the Cavaliers have a good shot of taking the series in six games.

Which team will win the Eastern Conference Semifinals?
Cleveland Cavaliers (62%)
Boston Celtics (38%)

Loading ...

David Friedman is a freelance writer specializing in professional basketball. His work has been published in several magazines, including Hoop, Lindy's Pro Basketball, Basketball Times and Basketball Digest. He has also contributed to NBCSports.com, HoopsHype.com and ProBasketballNews.com and his articles are frequently reprinted at Legends of Basketball, the official website of the National Basketball Retired Players Association (NBRPA). Friedman wrote the chapter about the NBA in the 1970s for the anthology Basketball in America (Haworth Press, 2005). Check out his basketball blog: 20 Second Timeout