Papa John's Pizza was handing out T-shirts with Lebron James's number and the word "crybaby" under it.
Now, after the Cavaliers eliminated the Wizards in 6 games, they are crying and have issued and apology to Cleveland and Cavaliers fans.
Papa John's will sell Cleveland residents (how about Akron?) a large, one-topping pizza for 23 cents on Thursday.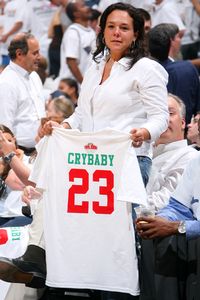 The company also will donate $10,000 to the Cavaliers Youth Fund.
The shirts started after James complained about hard fouls, and Wizards center Brendan Haywood called him a crybaby.