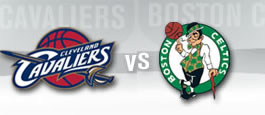 The Cleveland Cavaliers and Boston Celtics each cruised through the first round of the playoffs with 4-1 victories over Chicago and Miami respectively, setting up a rematch of their classic seven game 2008 Eastern Conference semifinals duel—but both teams have made significant personnel changes in the past two years.
Cleveland's 2008 playoff rotation (the top eight players in mpg) included LeBron James, Delonte West, Zydrunas Ilgauskas, Wally Szczerbiak, Daniel Gibson, Ben Wallace, Joe Smith and Anderson Varejao, while Sasha Pavlovic and Devin Brown were the only other players who averaged at least 10 mpg; Boston's 2008 playoff rotation consisted of Paul Pierce, Ray Allen, Kevin Garnett, Rajon Rondo, Kendrick Perkins, James Posey, P.J. Brown and Sam Cassell, with Leon Powe being the only other player who averaged at least 10 mpg (rookie Glen Davis averaged 8.1 mpg).
Cleveland's 2010 playoff rotation (the top eight players in minutes played during the first round) includes LeBron James, Mo Williams, Antawn Jamison, Delonte West, Anthony Parker, Anderson Varejao, Shaquille O'Neal and Jamario Moon. Zydrunas Ilgauskas and J.J. Hickson played significant roles at various times during the regular season but only saw spot duty (8.5 mpg and 4.4 mpg respectively) versus Chicago; Boston's 2010 playoff rotation (the top eight players in minutes played during the first round) is Rajon Rondo, Paul Pierce, Ray Allen, Kevin Garnett, Kendrick Perkins, Glen Davis, Tony Allen and Rasheed Wallace. Shelden Williams averaged 18.0 mpg but he only appeared in one contest—game two—after Garnett was suspended by the league. Michael Finley played just 8.8 mpg versus Miami.
Only James, West and Varejao remain from Cleveland's 2008 playoff rotation (Ilgauskas is still on the team, of course, but his role has been vastly reduced). James and Varejao are clearly better players now than they were two years ago, while West overall is about the same player that he was. Each of the five new players in the playoff rotation is clearly superior to his predecessor: Williams has replaced Gibson (who, like Ilgauskas, is still on the roster but with a much reduced role), O'Neal has supplanted Ilgauskas and Parker has taken Szczerbiak's spot, while Jamison and Moon are getting the minutes that went to Wallace and Smith in 2008.
Superficially it looks like Boston has not had quite as much turnover but even though the top five players remain the same their roles have changed: Rondo has emerged as an All-Star and is arguably the team's most important player, while Garnett—who was the backbone of the team's suffocating defense during the 2008 championship run—has been hobbled by a knee injury and is no longer a dominant rebounder (7.3 rpg during the regular season, his worst average since his rookie year) or defender (he averaged a career-low .8 bpg this season). Pierce and Allen have both shown signs of age at times, though their overall production now is comparable to their production in 2008. Perkins has improved since 2008, becoming one of the league's top defensive centers while also ranking second in the NBA in field goal percentage this season (.602). A big difference between the 2008 Celtics and the 2010 Celtics is that the 2008 squad had a deep bench comprised of playoff-seasoned veterans Cassell, Brown and Posey, plus young big man Powe (who later suffered a knee injury and is now a reserve for the Cavs), while the 2010 squad has a bench that is much more suspect: Davis is a solid contributor and Tony Allen has had some good moments, but Wallace has been a huge disappointment both literally—in terms of the excessive pounds he is carrying around his midsection—and figuratively.
Although the 2008 Celtics proved to be one of the most dominant defensive teams in recent memory en route to winning the championship, the Cavaliers pushed them to the brink, extending the series to seven games before dropping a 97-92 decision in the Boston Garden as Pierce (41 points, five assists, four rebounds) and James (45 points, six assists, five rebounds) staged a duel for the ages. James and Pierce are still the closers for their respective teams; James is now a consistently effective jump shooter, while Pierce added career-high three point shooting accuracy (.414) to his already deadly midrange game.
The 2008 Celtics led the NBA with a 10.2 point differential and a .419 defensive field goal percentage while ranking second in points allowed (90.3 ppg); the 2008 Cavs ranked 15th in point differential, 11th in defensive field goal percentage and ninth in points allowed, though some of those numbers are a bit skewed because the Cavs made some trades and dealt with some injuries to key players: by the time the playoffs rolled around, they were playing at a higher level than those regular season statistics portray, as demonstrated by how competitive the Cavs were versus the Celtics. However, one statistic that really jumps out from that season is that the Celtics ranked second in field goal percentage (.475) while the Cavs ranked just 27th (.439); perhaps lingering memories of that Cleveland team's struggles on offense explain why some people still carp about Coach Mike Brown's alleged deficiencies as an offensive coach but the reality is that the 2010 Cavs are a very potent offensive team, ranking third in the league in field goal percentage (.485), just ahead of fourth place Boston (.483). The Cavs have also improved defensively since 2008, ranking in the top five this season in point differential (second), defensive field goal percentage (fourth) and points allowed (fifth). The Celtics ranked ninth, ninth and sixth respectively in those categories this season.
The teams split the 2009-10 season series 2-2 but—as is often the case—you can largely disregard the statistics from those games: Cleveland's first loss to Boston took place in the season opener when the Cavs were still getting used to their new roster additions, while the second loss happened on April 4 when O'Neal was out due to injury. Cleveland's first win against Boston came on February 25 when the Cavs were nearly at full strength (missing only Ilgauskas) while the Celtics were without the services of Pierce, but the second win was a bit more significant: a Cleveland team without both O'Neal and Ilgauskas beat a full-strength Boston squad 104-93.
One weird statistic about the 2010 Celtics is that they actually did better on the road (26-15) than they did at home (24-17). That does not bode well for the Celtics, because the Cavs have been almost unbeatable at home the past two seasons and they are just as good on the road as the Celtics are, matching Boston with a 26-15 road record this season. The home team won every game in the 2008 series and has been very dominant in general when these teams have faced off during recent seasons, but those statistical splits suggest that Cleveland is more likely to get a win in Boston than vice versa.
Cleveland's homecourt advantage could obviously prove to be significant if a game seven is necessary but I do not expect that this series will go the distance. A dominant 2008 Boston team stacked with three healthy future Hall of Famers barely defeated a Cleveland team that was not as deep or talented as this year's Cleveland team, so it hardly would be logical to expect that an older, less dominant Boston team will beat the Cavs this time around. The one X factor, as every Cavs fan certainly knows by now, could possibly be the status of LeBron James' mysterious elbow injury—but even though the troublesome joint has caused James some discomfort and even temporarily affected his play, overall he has been performing at an extremely high level for weeks despite this problem, so at this point it does not seem that the injury is likely to get worse in the course of normal game action nor does it seem likely that it will seriously impair James' productivity or efficiency.