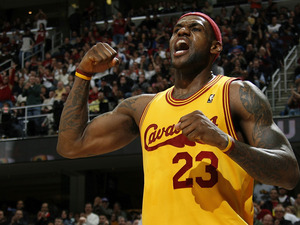 This is the first time the Cavaliers will face the Bulls in a playoffs series since the Michael Jordan era. It is also the time to erase a lot of bad memories for Cavaliers' fans and Cavaliers'players.
Shaquille O'Neal will start at center, his first game since he injured his thumb on Feb 25. He is back 20 pounds lighter and in a much better shape than when he went down with an injury. He is also hungry to fulfill his goal of winning a Championship for the city of Cleveland and "win a ring for the King".
"It's a chance for me to do something special, personal-wise, city-wise, LeBron-wise and everybody wise," Shaq said. "We have a pretty good shot at it. If we go out and do what we're supposed to do, then we'll be fine."
Lebron James is more focused than ever before and ready to release "different monster". He has been waiting for this day since the early exit last season when the Cavaliers lost to Orlando in the Eastern Conference and Lebron stormed out the court with disgust.
"I've been waiting personally on this since Game 6 of the Orlando series," James said. "It kind of hurts for a long time. You kind hold that in for all summer and all regular season to get back to this point. I'll be happy Saturday when I get the opportunity to release it."
Last week, James made a speech to his teammates, reminding them of what's at stake.
"I basically just said this is the time," he said. "This is what everyone was brought here for. This is what everybody worked hard in the offseason all year long. This is the time now. There's no time to look backwards. It's all about straight forward and just the vision of us winning an NBA championship.
"We want to win every series, we want to take every game like it's our last. But our whole vision is to win an NBA championship and we have to believe it first."
[polldaddy poll=3063925]