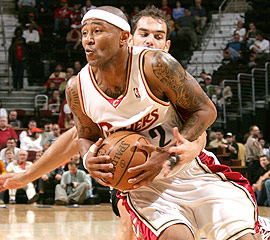 Mo Williams goal this season is to knock the Celtics "off the throne" and he thinks he knows how to do it.
Williams said before the Celtics beat the Cavaliers, 96-94, in an exhibition game,
"That's all we talk about. You got to knock the king off the throne. And I'm playing with the king, so you can take that how you want."
Mo Williams had 10 points, 7 assists, and 4 rebounds in 18 minutes against the Celtics last night.
Lebron James also thinks that this is the best chance they have got since he's been with the Cavaliers. "We have guys that can come in at every position on the court. It's great to have this team."
According to the Boston.com, Williams "could be the X-factor Cleveland needs to truly threaten the champs"
"Williams will threaten opposing defenses by pushing the ball hard on fast breaks. He will get open and easy shots when James is double-teamed or passing during a drive. While the Cavaliers would love for James to score close to 30 points per game, it's not necessary with Williams around.
The Cavaliers will also at times use an interesting perimeter lineup with James, Williams, and 3-point threat Daniel Gibson, which they experimented with last night against Boston."