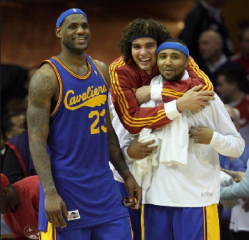 The Cavaliers did to the Celtics what they've been doing to every other club when they visit the Q handing them their 4th loss in a row. The Celtics never led as the Cavaliers playing without injured center Zydrunas Ilgauskas.
Including last year's postseason, the Cavaliers have now reeled off 10 straight wins over the Celtics at The Q. In those victories, the Cavaliers have defeated Boston by an average of 11.0 points per contest.
The Celtics got within three points early in the third quarter, but LeBron James took over the game at that point – scoring seven straight point. "We have to continue to protect home court," said the young King. "We want to continue to get better and we got better tonight. You don't want to take a step back because we have a big picture and a goal. You don't want to waste a game and not get better. We got much better tonight."
Lebron as usual stuffed the state sheet with 38 points, seven rebounds, six assists, four steals and three blocks.
Anderson Varejao had a solid game. He flirted with his seventh double-double of the season on Friday – tallying 14 points and nine boards. In the last seven games, the Wild Thing is averaging 13.0 points on .586 shooting, averaging 9.4 rebounds per contest. In seven starts this season, Varejao is averaging 15.0 points on .569 shooting, grabbing 9.4 rebounds per game.
"I'm working hard every day on my jump shot and my offensive game," said the fifth-year forward from Brazil. "I feel pretty good out there. I am playing with a lot of confidence and they are passing the ball to me."
Boston resorted to a Hack-a-Ben strategy past the midpoint of the fourth quarter. Boston fouled Wallace on five consecutive Cavs possessions, but end up making 5-of-10 at the foul line.