[youtube width="400″ height="300″]http://www.youtube.com/watch?v=3TEaAhCNDec[/youtube]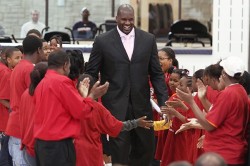 The Cleveland Cavaliers debuted Shaquille O'Neal today and the Cleveland Clinics training facility in Independence, Ohio. Shaq made it known many times during the press conference that he is here to help the city and the King get over the hump and win a championship.
"My motto is very simple," O'Neal said. "'Win a Ring for the King."
O'Neal has one season at $21 million left on a five-year, $100 million contract. However, early in his remarks he said, "I've got three years left in my career," perhaps an initial attempt to persuade the Cavaliers to extend his deal past 2010.
"I have a lot left," he said. "There's only four or five good centers in the league and I'm in that number. … I've been in it [the NBA] for 17 years but I've missed three years because of injury. If you do the math, I've still got three years left. You got that?"
"I would love an extension, who wouldn't?" he said, flashing his easy smile. "If they offer me a $35 million-a-year extension, I'll sign it right now. I won't even read the contract. I'm just here to take care of business and I know can help give the city what it's looking for."
He knows that he is here to help the Cavs win a championship and has no issue sharing the spotlight with Lebron James.
"It's LeBron's team," he said. "He's the captain. This is the time in my career where I can fit in. I'm now in the security business. My job is to protect the King, and that's what I'm here to do."
O'Neal is confident  that if James wins his first title in Cleveland, he'll stay around for more.
"In a perfect world and we win and take care of business, he has no choice but to stay here," O'Neal said. "If we do what we came here to do, everything will fall into place."