Lebron James and super model, Gisele,  will appear on the April cover of fashion magazine Vogue. Actors Richard Gere and George Clooney are the only other men that appeared on the cover of Vogue.
The photo was taken back in January, not in New York, but in James' home town of Akron, OH.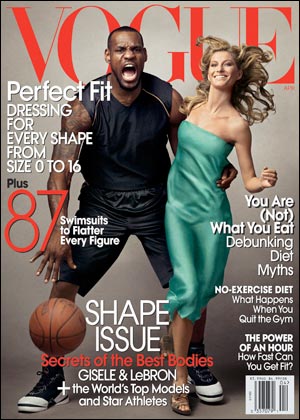 "Nobody says more about fashion size and shape than Gisele and LeBron," Vogue spokesman Patrick O'Connell said. "LeBron is an amazing star and athlete that has crossed over into a cultural phenomena."
Vogue is featuring athletes and models in an annual issue devoted to size and shape.
Being on the cover of a sports magazine is nothing new to James, who first appeared on Sports Illustrated's front as a 17-year-old high school junior in 2002 next to the presumptuous title of "The Chosen One." He is currently one of 11 athletes appearing on the cover of ESPN The Magazine's 10th anniversary issue. Source: SI.com