Lebron James is on the cover of TIME magazine as the "Leader of the Redeem Team"
"I want U.S.A. basketball to be dominant again," he says emphatically. "Every time people see the red, white and blue, they fear us." Lebron said.
Lebron James is not only leading a team of all stars but he is also guaranteeing the gold medal.
So you're going to bring a hoops title back home to the U.S., the country that gave birth to the game, reared it and then lost the ball to more graceful global neighbors? "Absolutely," James responds. Guarantee it? "Absolutely."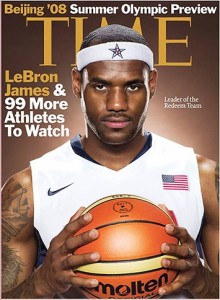 When asked about his leadership, "you're going to be hearing LeBron on the court, yelling and screaming, talking on defense," Wade said.
"James insists he can still treat Jason Kidd, a 14-year NBA vet, and Bryant, the league's reigning mvp, like green rookies if they screw up. He'll feel free to scream in their face. "I can't play unless I'm that type," he says. "There's no way I can hold back."