Lebron James ruled the NBA since he was drafted. He slammed the ball on so many players and NBA stars and no one came close to shutting him down. However, the software giant shut him down.
Yesterday, the software giant, Microsoft ended a two-year marketing partnership and left LebronJames.com as well as lebron.msn.com without a home. At the time of this post, all you see when you visit LebronJames.com is a Godaddy parked page (click on screenshot below).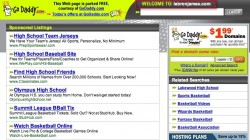 His first appearance for Microsoft was in a cameo role in TV ads for the launch of its Windows Vista operating system in early 2007.
According to ESPN, the partnership between the two faltered when Microsoft executive Joanne Bradford, who struck the deal with James, resigned as head of the company's MSN media network this year.
It's unclear whether the economic downturn had any effect on Microsoft's relationship with James. Microsoft said it will cut marketing expenses and take other measures to trim operating expenses by $400 million to $500 million over the fiscal year.
"Does anyone really believe LeBron James is really into computers? Maybe if they had him promote the Zune music player or some movie-making software, I could understand it." Tim Lenke from the Washington Post said.
"Even more baffling is why Microsoft didn't do more to activate the partnership once they signed James. The decision to partner with him in the first place was strange, but it's even sillier to spend money to bring him on board and then fail to have him do anything aside from a few commercials."