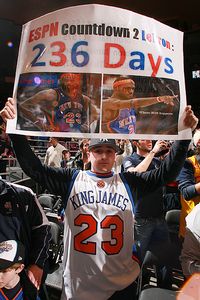 In their only visit to the Madison Square Garden, the Cavaliers gave the Knicks organization and fans a night to dream about. The season is in its infancy and Knicks fans are counting the days when Lebron is a free agent.
Lebron James and his teammates toyed with the Knicks all night long and finished the night with a victory (100-91). Lebron James gave them few highlights and finish the night with 33 points 9 assists and 8 rebounds. Mo Williams scored 12 points, and Anderson Varejao added 14 rebounds.
At the end of the night, Lebron gave everyone in New York and the NBA something to think about:
"As a kid I visualized playing for almost every team in the NBA," James said. "Right now, I visualize playing with a lot of guys in the NBA. There are a lot of great individual basketball players that I would love to be alongside of and try to contend for an NBA championship.
"I think at the end of the day, a max deal or anything like that doesn't really matter to me at the end of the day. It's all about winning for me. So I've put myself in a position that when that day comes next summer, I want to win, and if I feel like the team is capable of winning, I'll make my decision like that."
Asked what he'll remember most fondly about the night, he replied:
"The atmosphere, just that the atmosphere was great," James said. "There were a lot of stars in the building, and it's humbling to have guys like the Yankees come out and Jay-Z. It's really, really humbling to see some of the [football] Giants out, John Legend, I saw Chris Rock. You almost feel like you're a performer sitting on a stage, and they're watching you perform."
James was still sore from last night game against the Bulls. But he came out aggresive and almost outscored the entire Knicks team in the first quarter.
"LeBron's first eight minutes were ridiculous," said Knicks coach Mike D'Antoni, who expected this from James with Cleveland's poor performance Thursday and its lone MSG visit Friday. "That's why he's the MVP and that's why New York's a special place."
After the game, Lebron had an x-ray on his right hand but came out negative.
"They came off a game last night and as the leader of the team, you want to come out and be aggressive. He's always done it that way," Hughes said. "I did my job in making him take tough shots and he did his job in making those tough shots."
So, for now Lebron is back to Cleveland and he is a Cavaliers.