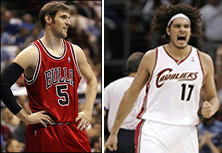 Earlier this week, many sources suggested that Anderson Varejao received an offer from the Memphis Grizzlies.
According the Cleveland Plain Dealer, "Cavaliers restricted free-agent forward Anderson Varejao has not received any offers from the Memphis Grizzlies or any other team.". According to several reports, the Grizzlies are running after the Chicago Bulls restricted free-agent forward Andres Nocioni.
But it doesn't look like the Grizzlies are doing enough to sway him away from the Bulls. According to the ChicagoSports.com, "league sources said the Grizzlies, who have made an oral offer not much better than the Bulls' written offer, wouldn't increase their pursuit of Nocioni"
"While nothing is official until Nocioni signs, all signs point to Nocioni accepting Bulls general manager John Paxson's five-year deal worth near $38 million, perhaps within days."
Brian Windhorst said on his blog that Varegao is their second option. If they fail to get Nocioni, they will go after Varejao.
"There is wide-spread speculation that if the Grizzlies fail to get Nocioni, they will target Varejao."
Brian also belives that Varegao did receive an offer: "By the way, I still stand by my story that Varejao's representation have told people he has an offer (solid or not, on paper or not) over the mid-level exception of around $6 million to start." he said.
Some suggested the Cavaliers GM Danny Ferry will let the process play out with Varejao and Sasha Pavlovic just like he did with Drew Gooden last year. Gooden didn't get an offer sheet and ended up signing a very reasonable contract.
But the Cavaliers will likely match any offer Anderson Varegao receive "even if it is a bit of an overpay." Windhorst said.
Sources: ChicagoSports.com, The Plain Dealer, Brian Windhorst Blog.