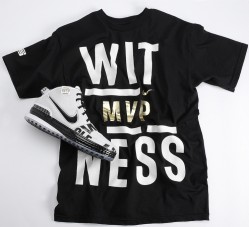 In celebration of LeBron James being named the NBA's Most Valuable Player for the 2008-09 season, Nike will unveil a commemorative Nike Witness MVP t-shirt and Zoom LeBron VI.
The Nike Witness t-shirt is available beginning today for a suggested retail price of $30.  The Zoom LeBron VI MVP edition will hit retail beginning May 30, for a suggested price of $150.
In addition to the special product, Nike will also update the Nike LeBron James Witness Billboard near Quicken Loans Arena with a laser show displaying "MVP" on the sign. The "MVP" Witness sign will be on display beginning tonight and will run throughout the length of the Cavs-Hawks game.
Finally, fans attending tonight's game will be given a special "Witness MVP" sign to be held during the game.