With LeBron James out as a precaution after he strained his left pectoral muscle, the Cavaliers were able to pull a win over the Boston Celtics. The game was held at Mellon Arena in Pittsburgh and drew a crowd of 8,112.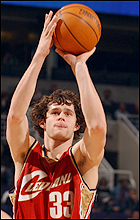 Jackson scored 14 points, including a pair of 3-pointers, had a pair of steals and a pair of blocks. Jackson got the start for James and was assigned to cover Paul Pierce. Paul got the best of Jackson with several moves as he put up nine points in the first quarter. Jackson settled down and allowed his teammates to come to his aid and gave up just nine more points to Pierce the rest of the night.

"My hat's off to Luke, it was great he stepped up to the challenge. Paul handed him his rear end in the first half and I thought he came back and tried to do the things we're talking about and relied on his team to help him." Brown said

Donyell Marshall had three 3-pointers and 13 points for Cleveland, while Zydrunas Ilgauskas had 12 points and Drew Gooden 11. The Cavaliers were 29-for-40 at the free throw line.
Damon Jones started at point guard picking up five assists and two steals with no turnovers. He went just 2-of-8 on 3-pointers and scored six points.
Sasha Pavlovic left the game in the second quarter with a hip pointer. He is listed as day-to-day.