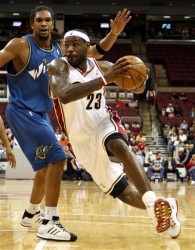 The Cavaliers played their best preseason game and had their highest scoring total. Lebron James had a preseason high 26 points, five rebounds and six assists. Mo Williams added 15 points but only one assist in their win (107-80) against the Washington Wizards. The Cavaliers committed only nine turnovers.
"We talked about taking care of the basketball and not having turnovers," Cleveland coach Mike Brown said. "I asked the guys if they could keep it below 13 turnovers, and our guys did a heck of a job."
The game was held at Ohio State's Value City Arena. James gave a nod to the Ohio State program by wearing a white Buckeyes T-shirt underneath his warmup shirt.
"It means a lot," Lebron said of playing in Columbus on the court where he earned three prep state championships. "Me being here in high school, playing here in March. I'm in love with Ohio State, everything that goes on with the campus, the sporting events, everything. To be able to bring my team here professionally was fun."
Lebron didn't fly back with the team. Instead, he will be at the the big OSU-Penn State game today.
"I think there's a lot of sports teams in Ohio, period, that don't get the recognition or the praise that we should get," said James. "That's not a concern for us. We just go out – Cavs, Browns, Indians, Buckeyes – and just try to do what we do. We just try to win ballgames."