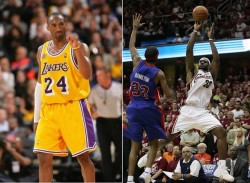 How many times did we hear that when the game is on the line, who would you want on your team to take that last second shot? And often Bryant gets credit for his clutch play.
But a new report by the popular NBA stats Web site 82games.com suggests otherwise.
According to the Web site, and their definition of a game winning shot, "24 seconds or less left in the game, team with the ball is either tied or down by 1 to 2 points." Kobe Bryant made 14 or 56 (.250) where Lebron James is 17 of 50 (.340).
LeBron James was just 4-19 in their previous look at game winning shots, so in the ensuing two and a half seasons, he has come up with a very respectable 13-31 (.419) record and just the other day had a pure game winner at the buzzer to top the Warriors. In addition he has six assists and a healthy number of free throws earned 14-20.
Kobe Bryant is #4 in the league in total game winners hit, however he holds the top spot in a less glamorous category: most game winning opportunity missed shots with 42. Lebron James comes third in that category with 33 missed shots.
In playoffs, Kobe and Lebron are both 4-8 (.500).
"Ultimately though while this kind of thing is fun, it's not to my mind particularly meaningful, other than indicating that the league as a whole could probably get more efficient in "end game" possessions" Roland Beech of 82games.com suggests. "one easy place to start might be to try and be less predictable! It's nice to have a go-to guy, but when the other team knows without much doubt that a certain guy is getting the ball, it is going to be a lot easier to defend! "
If we look at the assist numbers, Lebron James lead the league with 6 while Kobe is only 1.So if you want to add his assists to his makes, then make that 23/50 (.46) which is AMAZING.
This is where giving the ball to Lebron James in the last position can be very dangerous to the opposing team because if he can't take the last shot, he will find an open teammate that can.

Loading ...