Since LeBron joined the Cavaliers, we keep hearing rumors about him demanding to leave Cleveland. The latest I've heard was reported by Hoopsworld.com,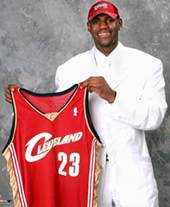 "Though the Lakers have a number of players in mind, sources have indicated for a number of months that LeBron James is indeed their primary goal in 2007." I have no idea where do they get this stuff!
Anyway, today while being bombarded with questions at the Cavaliers' media day, LeBron addressed his future before it was even brought up.
"For the record," James said, slamming his hand on the table. "For the record, I am not going anywhere. I keep hearing these stories about LeBron James is not happy in Cleveland. I don't understand where these keep coming from."
"I'm very happy in the Cavaliers uniform and I'm going to be wearing this uniform for a long time, OK?"
LeBron is very happy with what the front office has done so far with signing free agent guard Larry Hughes and Damon Jones, forward Donyell Marshall and re-signed center Zydrunas Ilgauskas.
"It's going to be unbelievable what this team can do," James said, cracking a smile. "It's like high school for me again. Now that I got a guy like Larry Hughes, who can break down a defense as well as I can, and a guy like Damon Jones who can shoot it from halfcourt, and a guy like Donyell Marshall, who can play the three, four or five and rebound the ball. It's unbelievable what our potential can be.
"There should be no excuses for us not to get to the playoffs with the guys that we've added."
Source: USA Today