– Hughes was greeted by more boos than cheers during introductions
"I expected it," Hughes said. "I know those boos were from fans who wanted me back. I definitely know it wasn't because I'm a bad person."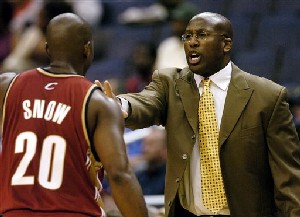 – The defense was commendable especially after a rocky start. The Wizards shot just 35 percent in the final three quarters after putting up 41 in the first 12 minutes, managed just 53 points the rest of the way.

"They started to trust the system, started to trust their teammates, started to communicate, When we do that, we'll get results." Brown said

– LeBron James and Drew Gooden scored 16 points apiece.

– James made his first four shots and 7-of-11 on the night combined with three assists and four steals in 25 minutes.

– Gooden was 5-of-5 from the field and also had a game-high eight rebounds.

– Larry Hughes, making his return to the MCI Center after leaving the Wizards for the Cavs in free agency, was just 1-of-6 from the field but wasn't afraid to go to the basket and draw fouls. He got to the foul line nine times and finished with nine points, three assists and three rebounds.

– Alan Henderson scored seven points and had four rebounds in his first eight minutes on the floor. Luke Jackson scored 12 points and lead the team in 3 points, 2-of-3 and had an explosive dunk in transition.
– Donyell Marshall and Damon Jones had eight points each off the bench.
Cleveland forward Donyell Marshall, who selected the Cavaliers over the Wizards during free agency, said he's happy with the choice but has thought about what might have been, according to the Washington Post.
"The last couple of days I have thought about it because it did come down to these two teams," Marshall said. "It was almost like choosing a college. I think I made the best choice for myself and my family."