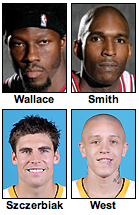 Danny Ferry pulled the trigger on a big deal that would add toughness and shooters.Basically the Cavs get:From Chicago: Ben Wallace and Joe Smith, and second round pick in 2009.From Sonics: Wally Szczerbiak and Delonte West.Chicago Bulls Get:Larry Hughes, Drew Gooden, Cedric Simmons, and guard Shannon Brown to Chicago.Seattle Sonics Get:Ira Newble and Donyell Marshall.Adding Wallace will give the Cavaliers an edge to deal with the Sonics and Pistons. Also, he is big and strong enough to deal with the bigs in the West in the Finals. 
 "Our primary goal with this deal is to create a positive impact as we head through the final stretch of the season and into the playoffs. We were very methodical in the process to make sure it was the best deal possible for this team," Ferry said. "We're very excited about what these players bring to us by adding a new dimension, and that we were able to impact this team without compromising future draft picks. This again demonstrates Dan Gilbert's dedication to this organization and city. At the same time, we have great respect for the guys that are leaving us and feel like they all contributed to our success.""While Ben Wallace is the biggest name in the deal, he may not make the biggest impact for the Cavs. The acquisition of Wally Szczerbiak could be huge. With a player like LeBron, outside shooters are critical, and in Wally, the Cavs just added one of the league's best." Chris Broussard an ESPN analyst who grew up in Cleveland.
What do you think of the trade?
Love it, will get the Cavaliers back to the NBA Finals (71%)
No impact. Boston, Detroit still favorite to win the East (19%)
Will make Cleveland worse (10%)

Loading ...