LeBron James collected 14 points on just 4-of-16 shooting, but had eight rebounds and nine assists to lift the Cleveland Cavaliers to a hard-fought 94-89 victory over the Indiana Pacers.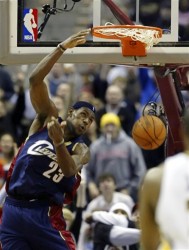 "I missed shots," said James, who was just 4-of-16 from the field. "I was getting my teammates into the game. I'm going to have an off night, but it doesn't matter because we won the ballgame."
Despite his poor shooting, James made several key plays down the stretch. With the game tied, 86-86, James drove the lane and warded off a defender before converting an acrobatic layup to give Cleveland the lead for good with 56 seconds left.
Indiana turned the ball over on the ensuing possession when Eric Snow drew an offensive foul on Jamaal Tinsley.
"LeBron did what he is supposed to do – he took over – and Eric Snow made a big stop," Marshall said.
"A lot of guys stepped up individually," Cleveland coach Mike Brown said. "I bet you there's no one in this building who thinks we win when (James is) 4-of-16 against the Pacers."
James again attacked the basket on Cleveland's next possession, but Indiana brought multiple defenders. With time winding down on the shot clock, James dished into the right corner for Larry Hughes, who dribbled to the free-throw line before drilling a fadeaway jumper to push Cleveland's lead to 90-86.
"It was one of the biggest games of the year for us thus far," James said. "We were able to dig down and get the win."
Drew Gooden collected a season-best 21 points and 12 rebounds, Hughes scored 18 points and Marshall added 17 off the bench for the Cavs, who shot 46 percent (6-of-13) from the arc and went to the free-throw line 37 times.
Click HERE for full game recap