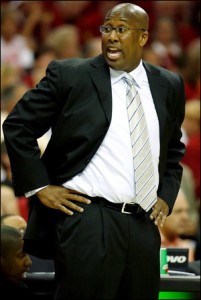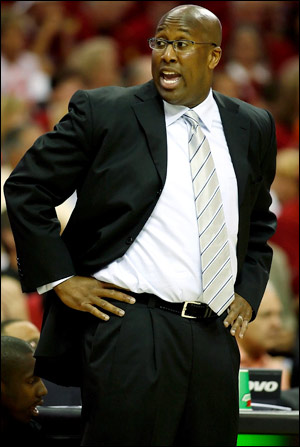 The Cleveland Cavaliers have officially fired Coach Mike Brown, an action that surprises no one and certainly delights some misguided fans and media members—the same people, I suspect, who called for Bill Belichick's head a decade and a half ago. Defense wins championships in pro sports but defensive-minded coaches generally do not "win" press conferences, so media members often turn against such coaches and sometimes the media members succeed in convincing the local fan base that writers, broadcasters and fans venting their frustrations on talk radio know more about coaching than actual coaches do.
Belichick learned his craft under a variety of NFL coaches, helped the New York Giants to win two Super Bowls as their defensive coordinator and then "failed" in Cleveland—if you define inheriting a 3-13 team and transforming them into a squad that won a playoff game just four years later as a "failure"—before creating a dynasty in New England; media members were consistently unimpressed by Belichick until the sheer weight of his successes finally muted their short-sighted and superficial critiques of his wardrobe and his dry press conference statements. Remember how the Cleveland media used to mock Belichick's play-calling? His New England offenses have been shattering records for years but rather than admitting that they misjudged Belichick the media asserted that Belichick had nothing to do with his team's explosive offense because he was just relying on Charlie Weis' genius, a theory that has been refuted in light of Weis' tenure with Notre Dame. As a last resort, these media members like to assert that Belichick "changed" after he left Cleveland but if you listen to the people who actually know football—the players, coaches and executives—they will tell you that Belichick got a raw deal in Cleveland and that he won in New England with the same basic philosophy that he tried to employ in Cleveland. Does any person with a shred of common sense believe that after Belichick was a great coach in New York he inexplicably turned into a fool in Cleveland before suddenly becoming a genius in New England? Belichick is a football lifer and the people inside the game have respected his knowledge for decades, even when the media had a field day mocking Belichick. Did Belichick learn some things along the way? Of course—it would be foolish to do otherwise—but Belichick's core football values have been the same for a long time.
Brown's resume is very similar to Belichick's: Brown learned his craft under a variety of NBA coaches, he helped the Spurs win an NBA championship (though Brown's role on that coaching staff was not as prominent as Belichick's role with the Giants) and then he "failed" in Cleveland—if you define being the most successful head coach (in both the regular season and the playoffs) in franchise history as a "failure." Media members repeatedly insist that Brown does not know how to coach offense, even though the Cavs ranked third in the NBA in field goal percentage (.485) and ninth in the NBA in scoring (102.1 ppg) in 2009-10; in 2004-05–the season before Brown arrived in Cleveland–the Cavs ranked 15th in field goal percentage and 17th in scoring. It is true that the Cavs have upgraded their roster during that time frame but it is wrong to ignore the fact that the Cavs became an efficient and productive team offensively under Brown's watch. The self-proclaimed "experts" in Cleveland liked to credit former assistant coach John Kuester with anything that the Cavs did right offensively but in Kuester's final season with the team (2008-09) the Cavs ranked sixth in field goal percentage and 13th in scoring, so the above rankings show that the Cavs continued to progress offensively even after Kuester departed to become Detroit's head coach. By the way, Detroit fell from 39-43 to 27-55 under Kuester in 2009-10 and the Pistons ranked worse in both scoring (29th, down from 28th) and field goal percentage (27th, down from 16th). That is not to say that Kuester is wholly—or even mostly—to blame for Detroit's problems; the point is that some members of the Cleveland media portrayed Kuester as an offensive guru but that has yet to be proven to be true.
When Brown came to Cleveland five years ago, the Cavs had absolutely no history of sustained playoff success nor did the franchise have the right culture to reasonably expect to attain that status. Brown pledged to make the Cavs a defensive-minded team and he was true to his word: in 2004-05, the Cavs ranked 11th in points allowed, 14th in point differential and 18th in defensive field goal percentage; by 2006-07, the Cavs ranked in the top eight in all three categories, in 2008-09 the Cavs ranked first, first and second respectively in those categories and this season the Cavs ranked fifth, second and fourth. Brown not only led the Cavs to the best record in the league the past two years—the first coach to achieve this since Phil Jackson did it with the Jordan-Pippen Bulls in 1996 and 1997—but the Cavs won more than 60 games in both of those seasons. Only 14 teams other than Mike Brown's Cavs have won at least 60 games in a season since 2000 (the first season after the lockout-shortened 1999 campaign): 2009 Lakers (coached by Phil Jackson), 2009 Celtics (Doc Rivers), 2008 Celtics (Rivers), 2007 Mavericks (Avery Johnson), 2007 Suns (Mike D'Antoni), 2006 Pistons (Flip Saunders), 2006 Spurs (Gregg Popovich), 2006 Mavericks (Johnson), 2005 Suns (D'Antoni), 2004 Pacers (Rick Carlisle), 2003 Spurs (Popovich), 2003 Mavericks (Don Nelson), 2002 Kings (Rick Adelman), 2000 Lakers (Phil Jackson).
Getting rid of a coach is the easiest move to make but now comes the hard part: hiring a coach who will actually do a better job than Brown did, which at this point can mean one thing and one thing only: winning an NBA championship—anything less than that is a failure, because Brown already took the Cavs to the NBA Finals for the first time in franchise history. Good luck finding another coach who can guide the Cavs to 60-plus wins, let alone win a championship; fans may think that coaching an NBA team is easy but a team owner should know better.
Brown is a convenient scapegoat but the first thing that Cavs owner Dan Gilbert should have done after the season ended was sit down one on one with LeBron James, pop in a DVD of game five of the Boston series and ask James, "What was that?" There is no doubt that James quit in that game; the only question is why and James is the only person who can answer that. Considering that Kobe Bryant is playing through an assortment of injuries, Steve Nash hardly bats an eye despite taking numerous shots to his face and Kevin Garnett has persevered despite having to drag around his surgically repaired right leg, it really does not make a whole lot of sense to use an elbow "boo-boo" as an excuse—and what, other than "boo-boo," can you call an injury that does not show up on an MRI, has been officially called a bruise and did not prevent James from firing half court three pointers prior to game six of the Boston series? I am not saying that James was not hurt at all but there is no reason to believe that he is more seriously injured than a whole host of players who are still making contributions to playoff contenders without uttering any complaints or excuses.
Do not buy the nonsense that James quit because he got frustrated at having to do so much just for the Cavs to have a chance to win—when you are a two-time MVP seeking out a max level contract you are quite rightly expected to be highly productive. Kobe Bryant's supporting cast is constantly praised and yet look at how productive Bryant has to be for the Lakers to win: during this year's playoffs, the Lakers are 7-1 when Bryant scores at least 30 points but they are just 3-2 when he scores 24 points or less. During the 2009 playoffs, the Lakers went 7-1 when Bryant scored at least 33 points (including 4-0 when he scored at least 40 points) but they went just 8-6 when he scored 32 points or less, including 1-2 when he scored 20 points or less. The Lakers went 6-2 when Bryant scored at least 33 points in the 2008 playoffs but they were just 8-5 when he scored 32 points or less, including 2-3 when he scored 24 points or less.
The bottom line is that no matter how good a team's supporting cast is—or how good it is purported to be—teams ultimately rise or fall based on how well their best player performs: to cite just one other example, in the 2003 NBA Finals, Tim Duncan had David Robinson, Manu Ginobili, Tony Parker and Stephen Jackson alongside him but in the clinching game Duncan rang up 21 points, 20 rebounds, 10 assists and eight blocked shots. So, yes, it is true that James has put up some awesome individual numbers but that does not "prove" that he lacks help; the great players who came before LeBron James and won championships all put up monster numbers during their title runs and James will have to do likewise in order to win his first championship.
It is also very weak that James is conveniently "on vacation" and thus unavailable to make any comment in the wake of Brown's firing. Does James really think that he can remove his fingerprints from the "crime" simply by being silent? As the team's leader, he should make some kind of public statement; it would be nice if James had enough humility and honesty to admit that Brown's emphasis on defense played a large role in helping him to develop into a top flight defensive player.
Unfortunately, just like James stalked off without talking to the media in the wake of Cleveland's loss to Orlando in the 2009 Eastern Conference Finals, he left it up to his teammates to respond to the firing of the most successful coach in Cavs' history. Point guard Mo Williams emphatically defended Brown: "Do I think he deserved it? No. My question is: Who's out there that's better? He's not a bad coach. To fire him, that's making a big statement. After him, you have to get a Hall of Fame coach. I thought we prematurely acted on our emotions, as an organization. I think he did a good job. If anything, bring in a veteran assistant. I think we just could have gotten better instead of blowing it all up. Now we're starting over."
Williams makes an excellent point, because Hank Egan once told me that it takes until "deep into your second year" before a team has completely internalized a new coaching's staff's system. Assuming that the Cavs fired Brown in order to fundamentally change their system, it will likely take until well into the 2011-12 season before the Cavs are completely in tune with the new way of doing things.
Center Zydrunas Ilgauskas echoed Williams' sentiments: "Obviously, we didn't achieve what we set out to achieve, which is to win a championship. But if you're going to lay all the blame on Coach Brown and think that's going to solve everything, you've got another thing coming. I think we're all at fault–the players, everybody. You have to, at some point, accept some of the responsibility. We all have to do that. A coach only can take you so far. At some point you have to do it yourself and we didn't do it. I think Coach Brown will be fine. He'll be coaching again, and I'm very sure he'll have success."
It is interesting that when the whole Orlando Magic team seemed to quit in game three of the Eastern Conference Finals versus the Celtics the players received the brunt of the blame; the only person who criticized Coach Stan Van Gundy was Van Gundy himself in his postgame press conference. Yet Mike Brown has been fired, in essence, because LeBron James quit in game five versus Boston and Dan Gilbert apparently believes that the Cavs have a better chance of retaining James' services by cutting ties with Brown. Gilbert and the entire Cavs organization have bent over backwards for five years to please James and James responded by quitting in the most important game of the season, hanging his coach out to dry in the process.
I'll leave the last word to Ilgauskas. Many people speculated that Ilgauskas had a beef with Coach Brown after Brown did not play Ilgauskas at all on a night when Ilgauskas had invited family members to watch him set the franchise record for most games played (Ilgauskas eventually did set the mark) but Ilgauskas had nothing but positive things to say about Brown, concluding with these words: "I just have this funny feeling that they might come to regret this decision, unless they go for Phil Jackson or something. You can throw all the names you want at the wall, but the reality is different. I've been through a lot of coaches and coaching staffs and, trust me, they're not all that good."
[polldaddy poll=3252438]