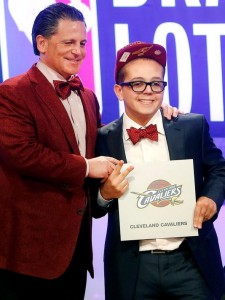 The Cleveland Cavaliers owner's son, who has a nerve disorder, has struck the lottery again. And the Cavaliers will pick first overall in the 2013 NBA draft on June 27 after winning the NBA draft lottery Tuesday in New York. This will be the third time in 11 years the Cavaliers pick first.
"It's huge for us," Cavaliers owner Dan Gilbert said immediately after the pick. "For us, it's about the city of Cleveland and giving them more hope as we build the franchise to the level we want to go to."
Had the lottery worked itself out mathematically, the Cleveland Cavaliers would've had the third pick in the draft. But this time the Cavaliers have hit it lucky again, the kind of luck you would expect to see at an online casino like Gaming Club.
As the Cavs were revealed as the winner, Gilbert, in his traditional bow tie, pumped his fist and grinned at his father sitting in the studio audience with the Cavs contingent that included hip hop artist Machine Gun Kelly, Iron Chef Michael Symon, Cleveland broadcasters and two fans who won contests to accompany the group.
"It's what's not to like 2.0," Nick Gilbert said, updating the memorable phrase he uttered when the Cavs won the lottery in 2011.
The Cavs hope this No. 1 pick will put them back in the playoffs again after a three-year absence, even if there is no obvious top choice.
"There's a lot of great players up top, but there's no clear No. 1," Gilbert said. "For us to have the choice I think is tremendous. It will give us not only a boost this year, but we're going to put together a young core of guys that are all under 22 years old.
Aside from the Cavs, the big winners on Tuesday were the Washington Wizards, who bumped up four spots and will have the enviable decision of choosing among a group of players that could include Porter, athletic four Anthony Bennett and defensive dynamo Victor Oladipo. For a team that played .500 ball over the last 50 games and already features John Wall and Bradley Beal, those four spots may be the difference between another losing season and a playoff run.