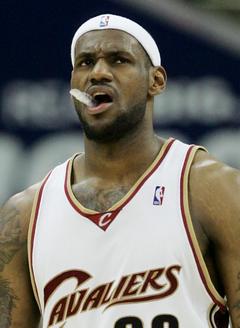 The Cavaliers are not playing anywhere like a conference champions. Their free fall continues with poor defensive effort. This time, Mike Brown is taking the blame on himself.
'I'm just as much to blame about our defensive liabilities as the players," Brown said .
"That's something that has to start with me and end with the players."
Brown said the letdown started in training camp when most of the time was spent on offense instead of working on defense.
"The players are going to follow the lead you give them," Brown said. "And we focused a lot on offensive."
"The bottom line is there are three areas that hurt us. The first one is fast break points; giving up 35 fast break points and I think 18 in the second quarter. Second thing is offensive rebounds. They hammered us on the offensive glass, which gave them extra possessions. That last things was turnovers. We had 19 turnovers. Those three areas hurt us tremendously." Brown said.
LeBron James finished with 21 points, including a 12-point first quarter, going 6-8 from the field.
He is three points away from 9,000 career points.
Drew Gooden recorded his 10 double-double of the season with 21 points and a Cavalier-high 10
rebounds.
Andre Miller scored 20 points to go along with five assists.
Reaction from local media:
-Â  Brown taking blame for lack of defense by Brian Windhorst
Coach thinks letdown began in training camp with practice on offense
– Sixers top Cavaliers 92-86 by Branson Wright
LeBron James once warned the opposition about the upcoming Cavaliers' success once everyone returned back to health. But the Cavs have been so disappointing in their past two games that now James warns his own team.
Reaction from  Sixers media:
– Sixers rebound to rattle Cavaliers (The Philadelphia Inquirer)