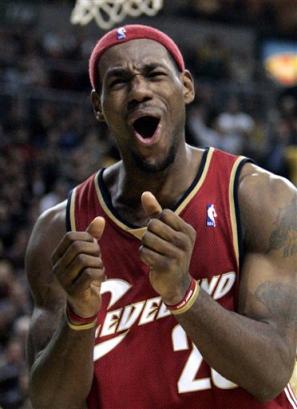 "This time, we came out with the wrong mind-set. We thought that we were going to outscore them. We can't do that with anybody," Cleveland coach Mike Brown said. "Yes, we can score, but we have to get defensive stops."
Seattle's earlier loss to Cleveland came in the middle of a three-game stretch in which Seattle lost by 25, 27 and 41 points. Seattle was outrebounded 56-21, the largest margin in Cleveland team history.
"Last game, Cleveland spent the last half of the game laughing at us," Seattle coach Bob Weiss said. "This was a big game for us. We had a lot to prove."
Seattle reversed the numbers, outrebounding Cleveland 38-30, including 11 offensive rebounds, leading to 17 second-chance points.
The Cavs got within two at the end of the third behind seven points from James and two 3-pointers from Donyell Marshall. Cleveland tied it at 81 on a layup by Hughes to open the fourth.
Seattle maintained a tenuous lead. The Sonics never trailed and were never ahead by more than seven. Radmanovic added 14 for Seattle, while Marshall had 14, and Drew Gooden scored 11 for Cleveland.
"It's frustrating, but that's a good team," James said. "We were one play from getting over the hump, but we just couldn't."
James scored 12 straight points for Cleveland early and 14 of 16, making five consecutive shots.
Click HERE for a complete game recap