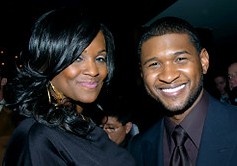 According to the New York Daily News, the Grammy winner Usher and his fiancée, Tameka Foster, have confirmed that they're expecting a bundle of joy. The baby is due in December around Christmas.
"We are extremely excited at this point in our lives, planning our wedding and the joy that comes with expecting our first child together," the couple said.
The NYDailyNews also reported that Usher missed a series of games because of rumors that he didn't get along with Lebron James.
From the NYDailyNews:
Meanwhile, the singer has been working to mend ties with the Cleveland Cavaliers, of which he is a minority owner.

Fans of the NBA team started to doubt Usher's team spirit after he missed a series of games, including a playoff game that was played while Usher was busy at the Tony Awards. Amid rumors that Usher didn't get along with small forward LeBron James, the team even stopped playing the Grammy winner's tunes for a period.

Tempers cooled recently when Usher accepted one of the team's repeated invitations to perform the National Anthem. "That was the first step to mending ties," said a source close to the singer.

Usher's spokesman called reports of tension with James and the Cavaliers "ridiculous. Usher made it clear how pained he was to miss the playoffs because of the Tonys. No one is more proud of the Cavaliers than Usher."
Source: NY Daily News