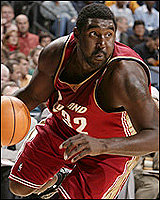 Free agent Robert "Tractor" Traylor plans to resume working out in six weeks after heart surgery last week, his agent, Andre Colona, said Monday.
Colona said that Traylor, who played for Cleveland last season, failed a physical with the New Jersey Nets during the off-season because of an enlarged aorta. The condition was discovered when Traylor had an echocardiogram during team physicals — as part of his exam with the Nets.
Colona said the procedure was "preventative" and Traylor could have played with the condition but there would have been a 40% chance his aorta would rupture.
Tractor was signed as a free agent by the Cavaliers on 08/03/04 and averaged 5.5 points per game and 4.5 rebounds.