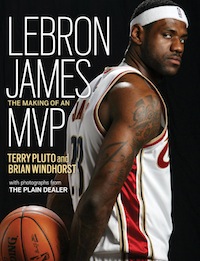 Plain Dealer sports columnist Terry Pluto and NBA beat writer Brian Windhorst are at it again with their new book  "Lebron James: The Making of an MVP".
After their first book, The Franchise, Windhorst and Pluto share the Lebron's tale. After all, they both covered Lebron's since he was only a kid in small town Akron.
This book is the most complete and most colorful look at LeBron's life and professional career to date. With over 90 large high quality color photographs, you will get a close-up look at Lebron, the player and the man and learn how he has achieved too much success in so little time.
The book starts with the MVP "Ceremony" Â and his choice to hold the ceremony in the shadow of downtown Akron at St. Vincent-St. Mary high school.
LeBron James could have held the ceremony anywhere. How about Quicken Loans Arena, where 20,562 fans stand and stomp and scream at the mere mention of his name when the starting lineup is introduced for the Cleveland Cavaliers? Or how about the fanciest club in downtown Cleveland? Maybe the Oregon-based headquarters of his biggest sponsor. Or even Beverly Hills, if he wanted some Hollywood flavor on the West Coast. The National Basketball Association would have loved LeBron to go to New York for the award, transforming it into an event for NBA TV and every other national network. After all, the 24-year-old was about to receive what many believed would be his first of several Most Valuable Player awards.
However, Lebron wanted to make his hometown, family, friends proud. "I graduated from here six years ago," said LeBron during his MVP ceremony. "I'm not that far away from this school … it has helped me become the man I am today."
Then the book takes you on a journey. A journey that takes you all the way back to Lebron's childhood when he was tall, skinny, and a shy 8-year old kid who needed stability while his single mom went through a difficult time. His stardom in high school that forced him to grow up fast. The early NBA years that weren't always as easy as they looked, and how Lebron grew quickly into a strong and confident team leader in the NBA and Team USA.
The book ends with "In the Clutch" and the pressure on star players to make game-winning shots. The last chapter is filled with photographs of Lebron's winning shot in game two of the 2009 Eastern Conference Finals.
This book is a pleasure to read for any basketball fan. The photographs are large and gorgeous. The book is available to buy for $15.95. You can buy it at a discounted rate from Amazon here.