When Lebron James returned to Cleveland after his Championship run in Miami, many expected an instant upgrade to the Cavaliers' success, but what many didn't anticipate is the drastic effect Lebron's return has had on the surrounding business and overall economics in the Cleveland area. One of the happiest people about this is Owner Dan Gilbert.
Not only are ticket sales up for the Cavaliers, but so too are food sales, merchandise, and parking revenue, as well. The bars that are located closest to the Cavaliers home, Quicken Loans Arena, and in the surrounding neighborhoods have seen a rapid and distinct rise in business since King James made his triumphant return home after his three year stint in Miami.
Businesses in the Cleveland downtown area have reported anywhere from a 30 percent increase to as big as a 200 percent increase in revenue, directly due to the larger crowds and attention the Cavaliers games have again, now that Lebron is back. Some financial experts have estimated Lebron's impact on the city's businesses to be around $500 million. While some still scoff at that number, nobody is doubting the great and direct effect that Lebron's return has had on the city's businesses as a whole. One financial and sports betting expert Jon Price who predicts the outcomes of basketball games says the economic impact is much greater. After LBJ signed the lifetime deal with Nike he created history. That history was created when he was signed and playing for the Cavs not the Heat.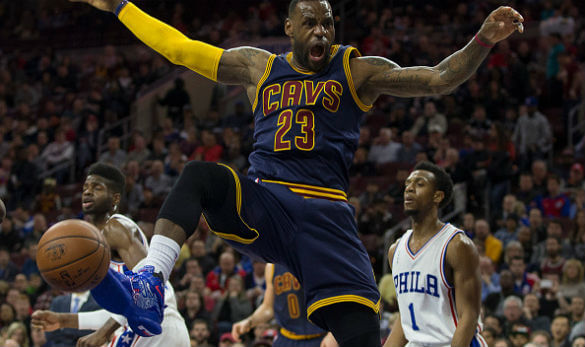 The Cavaliers quickly faded back to where they came from when Lebron left for South Beach. Leaving many fans to curse Lebron and even going as far as to burn his jersey. Just 3 years later, after Lebron had won two NBA Championships in Miami, all seems to have been forgiven as he made his return home last year to sold-out crowds and screaming fans. It was like he never left.
From bars to restaurants to hotels to parking lots and everything in between, Lebron has had a hand in revitalizing Cleveland's economy and businesses. Many bars are now keeping their bartenders staffed through the slow winter months, instead of their usual seasonal hiring habits during the busy summer months. King James has the support of the fanbase that he once turned his back on, and things seem to be on the rise in Cleveland, now the only thing that's left is for Lebron to bring home is a Championship, like the two that he left Cleveland to win in the first place.