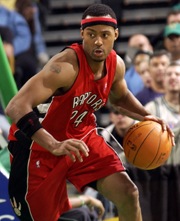 The Cavaliers reached out to Toronto's Morris Peterson in the opening minutes of the free-agent negotiating period Saturday night,
Peterson also received offers from the Jazz, Miami, New Orleans, Golden State, and Sacramento.
The 6-foot-7, 220-pound Peterson is a shooter first and foremost, taking some 57 percent of his shots this season from the three-point arc. He averaged 8.9 points and 3.3 rebounds while shooting 35.9 percent from three-point range.
Source: Salt Lake Tribune