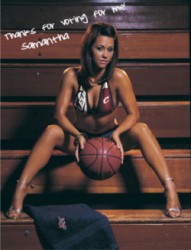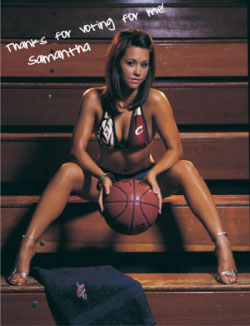 The Cavaliers this year have been very quiet about the Cavalier Girls so far this season. In fact, if you didn't go to a preseason game or to the Cavalier Girls Web site, then you probably didn't hear about the announcement of the new team. Looking through the photos of the new team, it seems to me that non of the girls from the 2007-08Â  are back this year.
That didn't stop the Cavaliers organization from producing their annual swimsuit calendar for the 2008-09 season. Five teams in 2007-08 season issued these calendars. Sales of these calendars have soared and they are usually one of the top selling items in the team shop.
NBA dancers are "more than eye candy, these entertainers help sell tickets, extend the brand" according to David Sweet of MSNBC SportsBiz.
Dancers are usually out before the games signing autographs and taking photos with fans to help sell and promote their calendars.