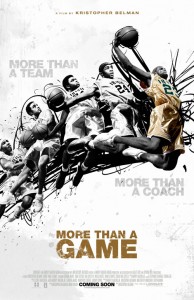 State Farm continues its successful relationship with Lebron James through a campaign supporting the company's sponsorship of "More Than a Game.".
The movie opens in select theaters Oct. 2. It tells the true story of five talented young basketball players, including 2009 NBA MVP and All Star LeBron James, and their remarkable journey from Akron, Ohio, to the national high school championship.
State Farm is launching a new new commercial, "Memories," that will air on TV, online and in theaters nationwide.
There is also a link setup on State Farm's website where fans can view never-seen-before behind the scene footage of the movie.
"State Farm is always looking for innovative ways to engage consumers with our brand," said Mark Gibson, State Farm's assistant vice president-advertising. "We have been at the forefront of merging entertainment and branding/advertising opportunities across a variety of properties and market segments. Our sponsorship of More Than a Game, and this new Memories creative, illustrates our core brand message that nothing is more important than being there."