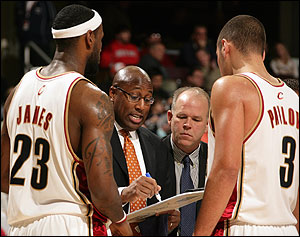 After rumors of Mike Brown being on the hot seat, the Cavaliers General Manager Danny Ferry extended the coach a new 2-year contract extension that will keep him until 2010-11 season.
Brown is the winningest head coach in Cavaliers history with a .592 winning percentage (119-82). Brown has also won more playoff games (19) than any coach in Cavaliers history.
"Mike Brown brings his high character, work ethic and talent as a coach with him to work every single day. He has been, and will continue to be, important to our continued growth as a basketball team as we work towards a championship," said Ferry. "Dan Gilbert saw this in Mike Brown on his 1st job interview two and half years ago and it is evident today more than ever."
"While the stats show that Mike has been the most successful head coach in Cavaliers history, it is his great leadership and his un-flinching focus on our core values and identity that continue to make him the right guy for the job."
Do you think Mike Brown deserves the new contract?