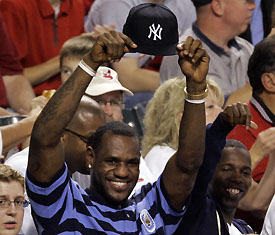 We all know Lebron James is longtime Yankees fan, but that has upset a lot of people here in Cleveland. On top of that, Lebron showed up yesterday at Jacobs Field wearing Yankees cap and raising it in front of a camera during an interview with TBS.
"It's like Indians ace C.C. Sabathia walking out there with a Pistons hat," said Kevin Lowrie, 48, of Mentor. "Yeah, it's who he roots for, but does he have to brag about it like that? It's wrong."
"I think he should be traded for that," said 30-year-old Joe Dickinson, with a laugh. "Cheer in secret."
Even New York fans thought it was odd for the longtime Yankees fan to flaunt his team's colors in the town that idolizes him.
"I can't understand it," said Rob Fath, 19, of Yonkers, N.Y. "It's really pretty low of LeBron, to be honest. Why would he do that to his city?"
But there is another side of this story, some fans just don't care.
"Who cares? I love LeBron. How can you not?" said 27-year-old Jason Maxey. "He can wear a Pittsburgh Steelers jersey for all I care. It has nothing to do with basketball."
"He can do whatever he wants. When he was young, the Tribe was bad, so what are you going to do?" said Derek Yurtz, 33, of Medina. "Whatever makes him happy. If rooting for the Yankees helps him shoot threes, he could vote for Satan."
So what do you think? Did this change your view of Lebron? You can comment on this here.