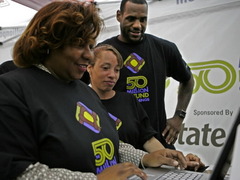 Lebron James today had round of interviews to promote the upcoming King for Kids Bike-A-Thon and discussed wide-range of topics around the NBA draft, the University of Akron's basketball team, and the U.S. Olympic team.
He believes Danny Ferry will do a nice job this summer to make the team better, he didn't say what nor if he offered the front office an opinion. But the one thing he said was that he is "dedicated to bringing a championship to this city," James told Mark "Munch" Bishop on ESPN 850 WKNR. "I'm bringing a parade to this city. I love this city. I love Northeast Ohio. … Right now I can't see myself going anywhere else."
On free agency:
We're at 19. You look for the best available player, I guess. I haven't really been up on it like I should be. I think our front office will do a good job of trying to pick the best player to fit our team.
On free agency:
I haven't got a good grasp on what's going on with free agents. I think the front office knows. I just know as an individual we have to get better. That means guys have to come back better as individuals. That helps our team automatically. If it means personnel change, so be it. We have to get better because Boston is a very good team and Detroit is going to reload, we feel like. There are other teams we feel like are going to get better.