The Verizon center will be the site for Thursday's game 3 between the Cavaliers and the Wizards.
The Cavaliers are up two games to none in the best of seven series. The Wizards don't expect anything to change and will continue the rough play against Lebron James.
"We're going to continue to play hard and continue to protect our rim." Antawn Jamison said Wednesday.
– Haywood on playing James
Haywood said he would continue to foul James "to keep him from getting a monster dunk." He has said he apologized to James for the flagrant Game 2 foul, although James said Wednesday that Haywood had not done so. The foul was subject to review for a possible suspension, but the league office opted not to take further action.
– Haywood on Mike Brown:
Haywood again tweaked Mike Brown for the way Cleveland coach runs on the court "like LeBron got shot or something" whenever the Cavaliers All-Star draws contact.
"C'mon, Mike, it's LeBron James, not LeBron Brown," Haywood said. "He's not your son."
Brown laughed off Haywood's words – "He can say what he wants about me" – and James said he was happy to have his coach sticking up for him.
– Wizards Are Confident They Can Repeat '05 Comeback
Yet the Wizards, who were sloppy and disorganized at both ends of the court during Monday night's 116-86 loss in Cleveland, remain confident that they can turn things around and make it a competitive series.
"We have a lot of guys like myself, Gilbert Arenas and Antawn Jamison, we were all on that team that came back, down 0-2 to Chicago, so we definitely feel confident in our skills and we know that we can get things done," said center Brendan Haywood, who was ejected in the third quarter of Game 2 after being called for a flagrant-2 foul on James. "When we watched the tape [yesterday], we realized that we made a lot of mistakes that aided them. And so, when you make a lot of mistakes to help the other team, you feel like, man, we cost ourselves the game."
–LeBron is ready for fouls and Soulja Boy by Jodie Valade of the Plain Dealer
"LeBron James is gearing up for Thursday's Game 3 against the Washington Wizards by preparing for the worst: plenty of more hard fouls and probably lots of Soulja Boy echoing throughout the Verizon Center."
James said he's not practicing his Soulja Boy dance moves.
"I got my Roc Boys dance ready," James said.
Roc Boys, of course, is a song by James' favorite hip-hop artist, Jay-Z.
– Soulja Boy is an LBJ fan by Brian Windhorst: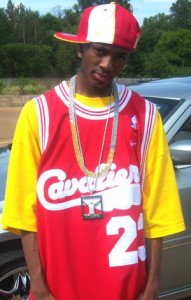 "you just have to love this whole LeBron/Jay-Z/DeShawn Stevenson/Soulja Boy stuff. It's all just wild junk but great fodder for us journalists and fans. First off, LeBron likes Soulja Boy and dances to his hit song. And, whether it is just fashion or fandom, Soulja Boy seems like he likes and respects LeBron a little."
– Bill Livingston on "Hack-a-Bron" strategy:
Asked if the brass-knuckle tactics of the Washington Wizards were responsible for his shooting most foul at the free-throw line, LeBron James said, affably: "I've been a bad free-throw shooter since I came into the NBA."
"LeBron James' troubles at the free-throw line have been apparent in the first two games of the playoff series against Washington. James has missed 13 of his 31 attempts at the line, although he is still averaging 31 points per game."
– On Wizards trash talk by Mike Celizic:
"Like so many teams that muddle into the playoffs on a tide of mediocrity, the Wizards want respect. But they don't want to earn it. All they want to do is talk about it.
They're an embarrassment, mostly to themselves, but also to their city and their game. If you're going to roll over and die, at least have the dignity to do it like gentlemen."
– Chris Broussard on Cavs Playoffs formula:
"The Cavs have lulls during the regular season that lead them to underachieve. But over the past three seasons, they've always turned it up and played their best basketball in the postseason.
They have the right formula for successful playoff basketball"
– Broussard on playing Boston:
"If the Cavs continue to improve throughout this series, beat Washington in four or five games and enter their second-round series against Boston (I'm going out on a limb by assuming they'll survive Atlanta) with major momentum, I believe they'll actually have a chance of pulling the upset.
I'm not predicting an upset, but a Cavs team at the top of its game will be a handful for the Celtics."