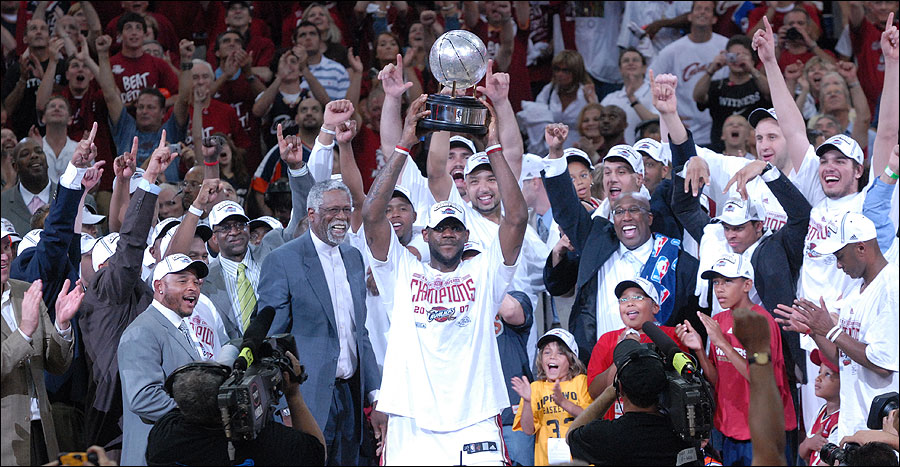 Cavaliers Fans, we are going to the NBA finals, yes this one is for real. I am still trying to digest what happened last night. After fighting the Indians and Cavs traffic, we were able to make it to the Q around 7:30pm.
A lot of good things happened yesterday and it started with the free parking spot that we got. We were getting ready to pay the $20 parking fee most places charged around downtown last night. But we were able to find a good spot next to Cleveland States University. There was a $10 parking fee sign but there was no one to collect the money.
When we got to our seats, the Cleveland Mayor, Frank Jackson was sitting right next to me and Bill Russell was three rows behind me. I was actually sitting closer to the court than Mr Russell himself :)
The arena was full and you can feel the energy everywhere. They gave out the red "Beat Detroit" T-shirt and red blinking "Rise UP" lights to fans.
Usher sang the National Anthem. I don't think he knew he was going to sign and actually he was surprised. He did a great job though!
For the first time in a long time, championship-starved Cleveland has something to feel good about. We are talking about the NBA Finals and we are actually in it.
We will meet the San Antonio Spurs in Game 1 of the finals on Thursday night.
The Cavaliers are only third team to come back from an 0-2 deficit in a conference finals, joining the 1971 Baltimore Bullets and 1993 Chicago Bulls.
As the final seconds ticked away, James threw the ball into the crowd and jumped into the arms of center Zydrunas Ilgauskas as the Q quaked.
The moment was very special for Ilgauskas, "We said we loved each other," Ilgauskas said. "We've gone through so much as a team. For some reason we sought each other out and the emotions took over."
"This is like a dream," James said, "This is probably the best feeling that I've ever had in my life."
"If I'm dreaming, please don't wake me up," Gibson said who scored a career high 31 points and drained 5 3-point shots.
You can find more game quotes here.
Also, watch video highlights of the game here.
Other News
– James Gang rides high (Akron Beacon Journal)
Please feel free to add any other links related to the Eastern Conference in the comment section.