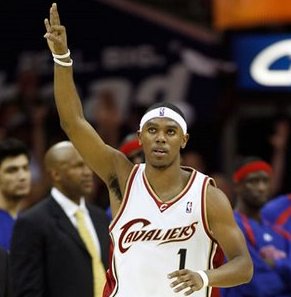 After a sensational night for Daniel Gibson against the Clippers, he is currently leading the league in 3-point shooting percentage at .478 after making 4 of 5 attempts last night. He has 117 attempts.
However, he is not expecting an invitation to the All-Star 3-point shootout in his home state in Dallas.
"I've been told it's not going to happen," said Gibson, a Houston native. "It is something about not having enough attempts when they were making the decision. I've been leading the league in 3-point shooting, that is why I thought I'd be invited."
Anthony Parker is waiting for an answer from his agent. Parker is currently fifth in 3-point field goal percentage at .447 with 150 attempts
"I think there's still a chance, but I wouldn't be surprised if they don't select me because they didn't when I was in Toronto."
ESPN just reported that Channing Frye has been selected. Frye would become the first center to compete in the 3-point contest since Seattle's Sam Perkins in 1997.
The NBA is expected to announce the contestants for the Three-Point Shootout for All-Star Saturday Night in Dallas on Wednesday.