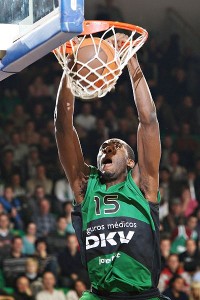 This is what I believe, that Christian Eyenga was such an eye opener, that at the NBA Draft, they did not have a name plate for him as he was being suggested as a 2nd round pick or thought to have not been picked at all. He is raw, but very athletic. The Cavaliers do not have a spot for him and can keep him in Spain for a while. While watching video of him last night, he seemed to need some more bulk to be able to handle the wear and tear of the regular season.
On to Danny Green of UNC. He is a tough defender who gives the Cavs added length wihch will be needed on the defensive end. Danny is a tough defender who may not give you a ton of offense, but is a ball hawk who makes up for his limited offense with great defensive intensity.
Here is Chad Ford, of ESPN's analysis.
Round 1: Christian Eyenga (30)Round 2: Danny Green (46, via Bulls), Emir Preldzic (57, obtained from Cavs via Magic and Thunder)
Analysis: Danny Ferry was obviously eyeing the future when he reached for Eyenga. He's been compared to Mickael Pietrus as an athlete and defender but he's really raw and not ready. Green is more polished and an underrated find. Prezldic is a Euro project who may pay off.
I have to say I'm a little surprised the Cavs didn't go for a player like Sam Young or DeJuan Blair who could've helped them right away. I thought the future was now in Cleveland.
Overall Grade: B-