Neither Eric Snow, Damon Jones, Mike Wilks, or Larry Hughes were able to keep Toney Parker from ripping up the Cavs defense. Their French point guard skillfully and quickly broke down every defender whom the Cavs threw at him.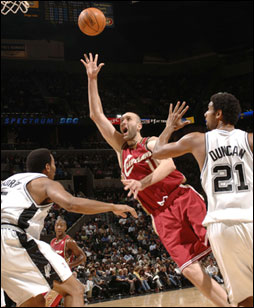 After an impressive season-opening victory over the lowly New Orleans/Oklahoma City Hornets, the Cavs received a reality check with a 102-76 blowout loss to the Spurs on Friday night during a nationally televised game at the SBC Center.
The Cavs, hoping to show off their new attack, were a scrappy bunch. They were moving the ball well and helping on defense, and had built a 41-37 lead in the first half.
The, Parker came off the bench after a rest and took charge. He led a 13-2 run that gave the Spurs the lead for good. When they opened the second half with a 15-5 spurt, thanks to four baskets from center Tim Duncan (21 points), it turned from a test game into what the Cavs feared most, another rout.
"We were feeling good about ourselves, and then, they cranked it up a notch," Cavs coach Mike Brown said. "They'll play with you, let you think you can play with them, and they the crank it up."
Damon Jones was the leader of that misadventure, tossing up shots out of sequence in going just 3-of-11 from the floor.
The Spurs shot 60 percent after halftime and handed out 13 assists.
The Cavs resume action tonight against the Grizzlies in Memphis, Tenn.
Donyell Marshall hurt his left calf in the third quarter. His status for the game tonight in Memphis against the Grizzlies is uncertain.