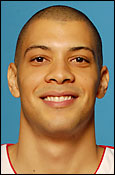 The Cavaliers are close to making their first free agent move this off season. According to the Cleveland Plain Dealer, the Cavaliers have agreed to the structure of a contract with Toronto's guard Anthony Paker and the deal is expected to be completed in the next several days.
Anthony Parker played for the Raptors for the past three season and averaged 10.7 points, 4.0 rebounds and 3.4 assists per game while shooting 43 percent from the floor and 39 percent from 3-point range.
He is 6-6, athletics and effective at creating his own shot. He fits the description for the long swing player the team has been looking for and he is effective defensively and can guard long wing players which proven to be a problem for the Cavaliers last season against the Magic.
Also, according to league sources, the Cavaliers are very close to signing Varejao to a long term contract.