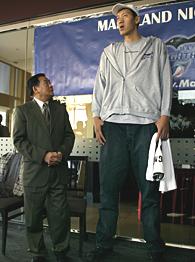 The Maryland Nighthawks of the American Basketball Association introduced Sun Ming Ming, a 7-9 center from China.
Nighthawks coach William Rankin expects Sun to be able to play about 28-30 minutes a game; his debut comes Saturday. That will also be Rankin's debut with the Nighthawks — he was hired about a week ago from a junior college team.
Sun has been in town about 1½ weeks, working out daily with Nighthawks guard Randy Gill, who said of his new center: "Every day, somebody's going to get dunked on."
Sun went through two operations for a pituitary tumor that led to his extraordinary size but threatened his life.
Sun said those procedures were successful and he's getting into shape.
The NBA doesn't overlook 7-footers.
"We will monitor his progress. His name has cropped up, but since he's never really played, I don't know how he can be on our radar," Marty Blake, the NBA's director of scouting, said in a telephone interview. "We would be interested in a player of some repute anywhere in the world, especially one who's 7-9. … As [former Utah Jazz coach] Frank Layden always said, 'You can't teach height."'