In partnership with Coca-Cola, we are giving away two Lebron James posters to two fans to help us choose the fourth dunker who will go against Dwight Howard, Rudy Gay and Nate Robinson in the 2009 Sprite Slam Dunk Contest at the NBA All-Star 2009 in Phoenix.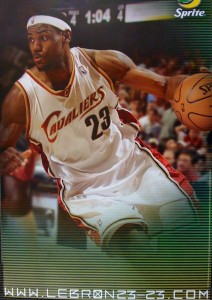 In order to win the poster, CavsNews will pick two fans. To qualify, you must cast your vote before next Wednesday, January 14th.
You must then subscribe to our daily newsletter. Two winners will be picked from the list to receive the poster.
The candidates are Rudy Fernandez (Portland Trail Blazers), Joe Alexander (Milwaukee Bucks), Russell Westbrook (Oklahoma City Thunder).
These rookies are doing whatever it takes to get the support of their fans– check out these videos below:
[youtube width="400″ height="343″]http://www.youtube.com/watch?v=PKXFZKf28s4[/youtube]
Russell Westbrook Shares His Get-Out-And-Vote Song:
[youtube width="400″ height="343″]http://www.youtube.com/watch?v=UY80hvJ0vFE[/youtube]
Joe Alexander Tells You Why He's the Flying Buck:
[youtube width="400″ height="343″]http://www.youtube.com/watch?v=oHGV9FMUK4I [/youtube]
Rudy Fernandez Shares a Bilingual Dunk Ballad:
[youtube width="400″ height="343″]http://www.youtube.com/watch?v=cPgo9feKJxY[/youtube]