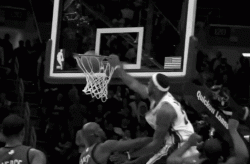 With the 2009 NBA Playoffs almost around the corner, the NBA released 14 different commercials that capture some of the amazing plays of the 2008 playoffs. These commercials are in black and white and meant to capture viewers emotions with the caption "Where Will Amazing Happen This Year".
I keep watching these commercials over and over and I love most of them. However, as a Cavaliers fan, my favorite is Lebron Jame's dunk on Kevin Garnett during the 2008 Eastern Conference Semifinals.
Which one is your favorite?
Manu Ginobili
[youtube width="400″ height="215″]http://www.youtube.com/watch?v=MVjQLhH5OSw[/youtube]
LeBron James dunk on Kevin Garnett (Eastern Conference Semifinals 2008)
[youtube width="400″ height="215″]http://www.youtube.com/watch?v=pYa5u-lPS8c[/youtube]
Kobe Bryant's shot vs Phoenix Suns (2007):
[youtube width="400″ height="215″]http://www.youtube.com/watch?v=ac4HOTcbf2o[/youtube]
Chris Paul's shot vs Spurs:
[youtube width="400″ height="215″]http://www.youtube.com/watch?v=WHI3lGRipEI[/youtube]
Kevin Garnett dunk against the Pistons (Eastern Conference final 2008)
[youtube width="400″ height="215″]http://www.youtube.com/watch?v=AEmtB2y_6OY[/youtube]
Paul Pierce dunk against the Cavaliers (Eastern Conference Semifinals 2008)
[youtube width="400″ height="215″]http://www.youtube.com/watch?v=9eIMPyAFD0o[/youtube]
Joe Johnson 3-point shot against the Celtics (First round playoffs 2008)
[youtube width="400″ height="215″]http://www.youtube.com/watch?v=4frVnKRNR5U[/youtube]
Tayshaun Prince blocked Reggie Miller shot 2004
[youtube width="400″ height="215″]http://www.youtube.com/watch?v=M-u5VK-zS2o[/youtube]
Dwyane Wade shot against the Pistons
[youtube width="400″ height="215″]http://www.youtube.com/watch?v=IeArg1v4Hck[/youtube]
Tim Duncan shot against the Phoenix Suns
[youtube width="400″ height="215″]http://www.youtube.com/watch?v=f5d_9k7AjuY[/youtube]
Carmelo Anthony dunk against the Spurs (2008 Playoffs)
[youtube width="400″ height="215″]http://www.youtube.com/watch?v=nCAgUnTOoqQ[/youtube]
Andrei Kirilenko dunk on the Rockets
[youtube width="400″ height="215″]http://www.youtube.com/watch?v=qwnukimHW7k[/youtube]
Yao Ming shot against the Utah Jazz
[youtube width="400″ height="215″]http://www.youtube.com/watch?v=sVhvFb5ls0M[/youtube]
Richard Hamilton shot against the Celtics
[youtube width="400″ height="215″]http://www.youtube.com/watch?v=eKaEhG7K-fw[/youtube]