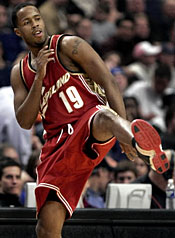 Damon Jones is expected to join the Bucks and help the team in their pursute for a Playoffs spot in the Eastern conference.
Damon Jones did not report to the team since the three-team trade that brought Mo Williams to Cleveland and sent point guard Luke Ridnour to Milwaukee from Oklahoma City.
Damon's agent Mark Termini and Bucks management tried to find other trade possibilities and find another home for Damon.
"I know Damon is a high-level NBA shooter," coach Scott Skiles said after his team's practice at the Cousins Center. "That's where he has kind of made his mark. We'll see. I don't have a closed mind about anything.
Damon Jones played for 10 National Basketball Association teams during his 11-year career. Jones played three seasons with the Cavaliers, his longest stop with any NBA team.
by mutual agreement while agent Mark Termini and Bucks management pursued other options.
With any trade possibilities limited at the moment, Jones will join the Bucks to see whether he can contribute to a team that is hoping to make a run at an Eastern Conference playoff spot.
"He's a great teammate," Redd said. "I played well with him. He knocked down threes with Cleveland and Miami, and with us when he was here.
"He helped me out tremendously when he was here. That was my first year starting. He helped me through the games and put me in positions to be successful. We talked a lot.
"We wanted to win so bad, and we played hard for coach (Terry) Porter. Desmond Mason was on that team; Joe Smith was on that team. Keith Van Horn was on that team, and we all got along."