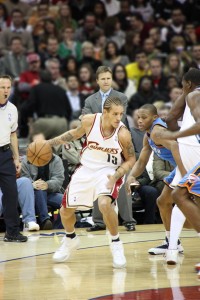 Delonte West might not be getting enough credit for the Cavaliers success. Other than Lebron James Mo Williams has been getting much of the attention to the Cavaliers amazing run so far this season. Not to take anything away from Mo, but Delonte West has been the Cavs' best backcourt defender and has the team's third-best plus/minus differential, according to 82games.com.
Mo Williams has been referred to as the "Robin" to "Batman"  but according to 82games.com, Lebron James and Delonte West are the entire League's best player pair.
West has been playing close to 34 min per game and averaging 12 points per games. He is averaging more steals than turnovers per game and is almost shooting 40 percent from the 3-point line.
In the last five games, West averaged 15.8 points and almost five assists. He committed only four turnovers and had eleven steals, four steals in the Cavs last win against Miami.
With these kind of numbers,  look for him to get plenty of looks with most defensives focusing on both Lebron James and Mo Williams.
Source: ESPN – Player Rater: Seth Landman discusses the emergence of Delonte West.