Walt Wesley, the man who set the infamous 1966 Jo Jo White pick which made the movie Glory Road possible, quietly shepherds at-risk youth through tough times. Wesley, a Police Athletic League (PAL) executive in Fort Myers, Florida, offers a balanced perspective, stressing education:
It's great to have aspirations of being a pro athlete, but you have to bring more to the table than being able to play the game. Not all of us that have aspirations are going to succeed, but there are other parts of the game you can succeed in, and an educational background will help.
His surroundings aren't ideal; Gulfshore Life described the PAL facilities as "a windowless portable building in a city park off Marsh Avenue." I can only imagine Walt's response. "Let me tell you a story," he might begin, "a tale of two cultures and one love."

In the 1960's, if you were black and of high school age, you attended Fort Myer's Dunbar High, Lee County's all-black high school. White kids went to Fort Myers High School; segregation was a way of life. Colleges in Florida were not accepting applications from black athletes.
It's not that we weren't capable, or good enough academically.
We just weren't recruited. There was a segregated system, and it was tough. Fortunately, I was recruited by several schools out of the midwest and that's where I chose to go. (Source: News-Press)
The University of Kansas, not just any midwest school, and Walt Wesley, not just any high school basketball player, clasped hands and set records. This black Crimson and Blue star would twice be named All American; averaging 19.3 points per game, Walt is still one of the top 25 leading scorers in KU basketball history.
And that is how Walt Wesley found himself the unintentional catalyst for a world famous movie. The 1966 Midwest Regional Finals are coming to a close in Lubbock, Texas with a nail biter between the #4 ranked Kansas Jayhawks and the #2 ranked Texas Western (now known as The University of Texas at El Paso or UTEP) Miners. Walt sets a pick; Jo Jo White grabs the ball, flinging a ridiculous 30-footer as the buzzer sounds. Swish. Kansas is Final Four bound. And then – the whistle.
Referee Rudy Marich points to the floor on bended knee. Everyone squints to see the bug. No, not a bug? Out of bounds? Jo Jo White stepped out of bounds?
"To this day, I don't think he stepped out," says Walt. "Like a lot of other controversial calls, once it's made, it stays. What made it even more difficult is that this team won the national championship."
Ted Owens likes to tell it this way:
If you ask anybody in Lawrence, Kan., no, he never stepped out. I ran into Don Haskins [Texas Western coach] at an airport a few months after that and he said Jo Jo was out by a good yard.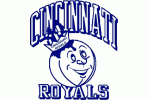 Next stop – Cincinnati. Drafted by the Cincinnati Royals in the 1st round of the 1966 NBA draft, Walt began the first of 10 seasons with 8 teams.
A windowless portable building sounds pretty good compared to spending nine of your home games on the road, playing in Cleveland or Dayton. On the other hand, playing with Oscar Robertson, Happy Hairson, Jerry Lucas, Adrian Smith, Connie Deirking, John McGlocklin, Freddie Lewis, Flynn Robinson, Len Chappell, Bob Love, Bobby "Bingo" Smith and Jim Ware might make the hardship worthwhile.
Although making it to the playoffs, Walt's Royals were ousted in the first round for three straight years; Walt moved on.
The Chicago Bulls grabbed him for the '69-'70 season and left him open for the expansion draft the following year. Moving to Cleveland, Walt found himself in what had to be one of the most exciting, heartbreaking, wonderful, frustrating years of his life.
. . . Walt Wesley, John Warren, Dave Sorenson, and John Johnson . . . not only got the franchise off the ground, but . . . endeared themselves to the fans and city of Cleveland.
With the city firmly behind them, the Cavaliers formed strong bonds with each other as well. [Bingo] Smith said that despite the adversity during the expansion season, he would repeat the experience all over again.
"Yes, the losses were tough, but it wasn't the only thing," said Smith. "Guys had strong ties to each other—we lived by each other, hung out together, went to dinner together. And because of the bond, guys made their home in Cleveland. That was special." (Source: Cleveland Plain Dealer)
SLAM, detailing Cavs history for its readers prior to the 2007 playoffs, had this to say about the 1970 fledgling Cavs:
The expansion franchise finished with a league-worst . . . record behind head coach Bill Fitch and a bunch of players you've never heard of (including the wonderfully named McCoy McLemore). Their leading scorer was Walt Wesley (17.7 ppg), and the closest thing they had to a Hall of Famer was Larry Mikan – George's son – playing in his only NBA season. About the only thing they had going for them was their wine and gold uniforms. Even the arena was rough – Cleveland Arena was built way back in 1937, and probably didn't have many modern amenities . . .
They had a thing for alliteration if not basketball – Wesley was teamed with Butch Beard, John Johnson and Rick Roberson. McLemore, tragically, had moved on.
After looking over the team, Coach Bill was reported to have said:
Just remember, the name is Fitch, not Houdini.
Hard to imagine now, but the NBA was only in its 25th year; the Cavs, the Buffalo Braves and the Portland Trail Blazers are the new expansion teams. The NBA is forced to split into four divisions; two in the East and two in the West. The East consists of the Atlantic and Central Divisions. The Midwest and Pacific Divisions make up the West.
Once again, we reflect upon the positive side of a windowless, wheeled office. The Ice Capades were booked at the Cleveland Arena so Walt and the gang played their first seven games on the road, losing all of them. Averaging losses of 17.3 points, Coach Fitch once again came to the rescue with his sense of humor:
We're the only team who could play back-to-back games on What's My Line and stump the panel. Mission Impossible didn't even want us on their show.
How could the season get worse? You could lose your first home game to the San Diego Rockets (110-99) in front of 9,199 spectators. Bill, where's Bill?
"I phoned Dial-a-Prayer, but when they found out who it was, they hung up," Coach Fitch quipped.
Back in the fall, when the Cavs were still training at Baldwin Wallace, Bill Nichols, a wonderful sports reporter for the Cleveland Plain Dealer, quoted Bill Fitch:
So far, you can compare our defense to the national debt.
The same article ran this little note:
Walt Wesley, 6-11 pivotman from [the] Chicago Bulls, went at half-speed during the scrimmage. He's suffering from a hamstring pull in his left leg.
Bill Fitch was known for two things – 1) his sense of humor and 2) having no sense of humor; during practice, that is. Six minutes late for breakfast, Fitch had Walt run six minutes of sprints. Yes, Walt with the hamstring pull. He probably never showed up late again but in retrospect, I can't help but wonder about all of the games lost and the team's center sprinting on a bum leg.
All told, we lost 15, won one, lost 12, won one; at 3-26, the Cavs caught on fire (not literally, although I would understand why you would think so at this point) winning on December 25th, 26th and 27th. And then the bad thing happened.
John Warren, normally a sane and somewhat cautious guard, converted a layup into Portland's basket. Luckily, Portland appeared to have swigged the same crazy juice as their center, LeRoy Ellis, tried to block Warren's shot.
The season mercifully ended with a 15-67 record. One bright spot – rookie John Johnson represented Cleveland in the NBA All-Star Game that year.
3 years in Cincinnati, one in Chicago and one in Cleveland. Walt left Ohio for good in 1972, heading for Phoenix. The '73-'74 season found Walt in DC with the Capital Bullets; '74-'75 in Philadelphia and Milwaukee; and his final season, 1975-1976, with the Los Angeles Lakers.
Leaving the NBA after the '75-'76 season with 4,998 points under his belt, Walt stopped at KU on his way home to Fort Myers, reunited with Ted Owens, and began a 2nd career as an assistant coach.
For the next 30 years or so, Walt flew under the radar, appearing in trivia quizzes:
Laker's Quiz
On June 16, 1975, the Lakers traded Junior Bridgeman, Dave Meyers, Elmore Smith and Brian Winters to Milwaukee for Kareem Abdul-Jabbar and which other player?
A. Corky Calhoun
B. Stu Lantz
C. Stan Love
D. Walt Wesley
Official NBA Trivia: The Ultimate Team-by-Team Challenge for Hoop Fans/Clare Martin
When the 1998-99 season began, only one player in Cleveland history had scored 50 or more points in a game. Name him.
A. World B. Free
B. Mike Mitchell
C. Brad Daugherty
D. Walt Wesley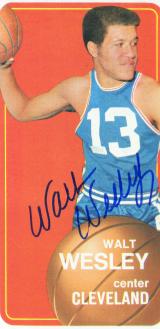 and trading card sites, until 2004 when Bernie Morgan, a KU booster, presented a comprehensive list of accomplishments racked up by Bill Bridges, Bud Stallworth, Walt Wesley, Darnell Valentine and Dave Robisch to athletic director Lew Perkins, who agreed they all deserved to have their jerseys retired.
I'm thankful the so-called "Forgotten Five" are now being honored this way.
Walt was his usual calm self. Asked if he was nervous about making a speech to accept the award:
I'm not worried about that. That's like playing the game. When they throw the ball up, you play.
And unlike some of the players from his era who felt slighted and sounded a little bitter at having to wait 30 years to be recognized, Walt said:
It is quite an honor, especially at the University of Kansas, to have your basketball jersey hung in the rafters . . . It's déjvu. I get a little feel of excitement just thinking about it. I have such great and fond memories of being there and playing in Allen Fieldhouse.
KU is something that will be with me forever. (Today) is fantastic. For my teammates to be there and coach … you know, coming to KU I was not the greatest player in the world, but I worked at it and now this.
Walt makes people feel good about themselves, a trait the kids in Fort Myers are fortunate to experience. Ted Owens:
Thinking about Walt makes me feel good because I think our staff helped him develop. I probably take more pride over Walt than anybody. He put in a tremendous amount of work before and after practice and became a very good turnaround jump shooter.
Our head maintenance (person) would put up the iron defender, an adjustable panel that could slide up and down on the goal. No way Walt could shoot the ball without hitting the defender without getting the height of extension on his shot. He'd hit 150 shots before he could go in. He went on to become even better in the pros, scoring 50 one night for the Cavs. He's a special player, a special person and most deserving of this honor. (Source: KUSports)
No longer forgotten, Walt's jersey was retired on December 18, 2004 and hangs proudly from the rafters of the historic Phog Allen Fieldhouse.
In September of 2007, Walt was inducted into the National Negro High School Basketball Hall of Fame in Daytona Beach.
Not to be outdone, Dunbar High School retired Walt's jersey in January of 2008, making Walt the first retired jersey in Dunbar history. This time, Walt expressed regret. Not bitter, just sad.
Wesley said Saturday's ceremony had more significance because it took place in a gymnasium named after his former high school coach, James Stephens . . . his only regret . . . was that his parents, Leroy and Josie Wesley, and Stephens weren't there. They are all deceased.
"It brings tears to my eyes because there is someone else I wish was here," Wesley told the crowd. "A man started all of this by the name of James Stephens. He saw a skinny, lanky young fella outside one day and said, 'Young man, you don't know you're worth about a thousand dollars and some change.' It kind of came true." (Source: News-Press)
Interestingly, since Walt's life is full of reversals – east to west, west to east; home to fame, fame to home; a kid needing help to helping kids – his jersey retirements were also a reversal of sorts. From forgotten five to lauded star, Walt's number 13 was retired at KU and his number 31 was retired at Dunbar. [Editor's note: yes, there are two #13 retired jerseys hanging in the rafters at Allen Fieldhouse; Wilt the Stilt and Walt the Wesley.]

In 1995, Walt came home for good and began his work with the Fort Myers Police Athletic League. Wesley and his volunteers coordinate boxing, basketball, football and other activities for at-risk youth.
Concerned that blacks might be focusing too much on careers in professional sports, and that the image of black athletes in the media is having a negative effect overall, Walt stresses:
We need to get back to the grass roots of athletics and competition and having kids and parents understand what it's all about.
Parents need to stress education instead of sports, even when their children show exceptional athletic ability. That would serve as a counter to negative images in the media – which sometimes are embraced by black youth – and it would provide a broader range of options in sports.
We need to make our kids aware of this thing called sportsmanship . . . We all want to win but you have to understand at some point, someone's going to lose. (Source: News-Press)
Winning and losing. Reversals. Leaving and returning. Reversals? Not for Walt:
Coming back and being part of the community was always part of the design.